July 15, 2023
This week we have a very special Inspiration, Caleb Lawson. Read Caleb's biography below, then a letter from Caleb sharing exciting news.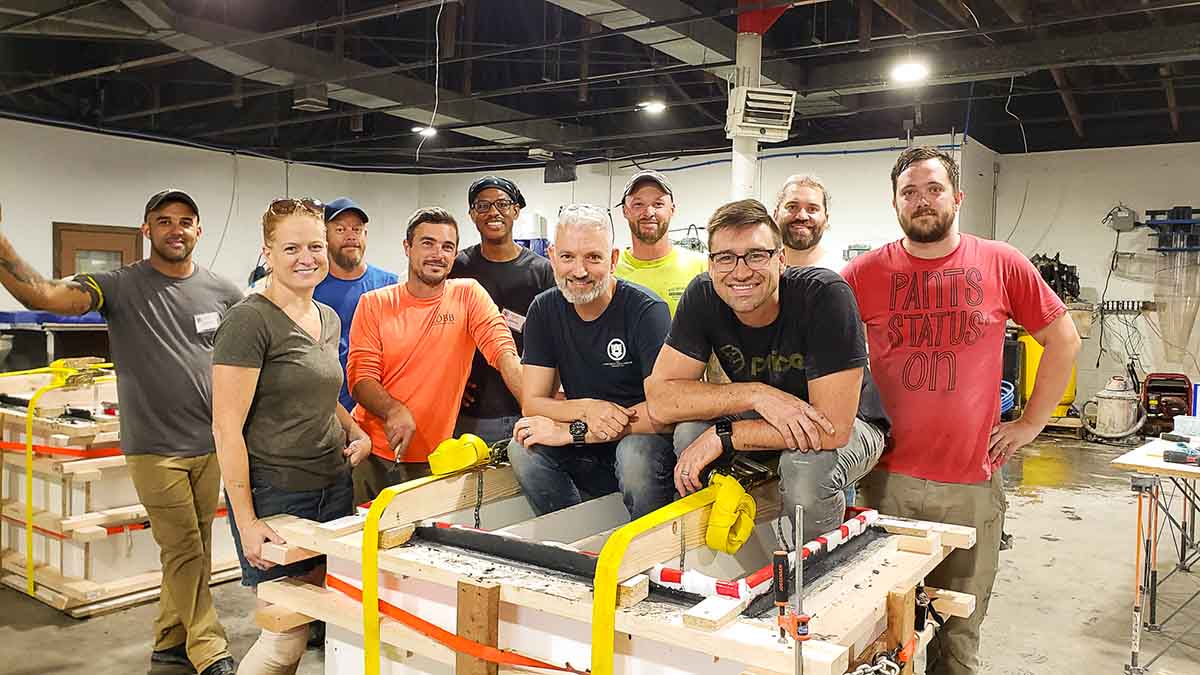 About Caleb:
Caleb Lawson is the owner and lead artisan at Lawson Design, a luxury concrete surface and furnishings company nestled in the Blue Ridge Mountains of North Carolina. An 8th generation Floridian, Caleb was born in Miami, but grew up in Orlando. The son of recently retired Florida Supreme Court Justice Alan Lawson, Caleb aspired to follow in his father's footsteps, but found his stride creating functional art with his hands in 2012.

Caleb jumped headfirst into the deep end of what would become his business with no prior experience with concrete, or with construction as a whole. After hard lessons and difficult failures, Caleb sought training from the best mind in the niche industry, and changed the trajectory of the business. In the 10 years since Caleb bought his business, he has risen to prominence in the field, training others as an instructor for The Concrete Countertop Institute, and gaining a reputation for taking on challenges others shy away from.

He likes to "say yes, then figure it out", a method that has served him well when clients need out-of-the-box custom pieces fabricated and safely delivered. Boasting Disney, Universal, and Ritz Carlton, to name a few, as commercial clients, and seeing his product at home in custom homes ranging from 7 to 30 million in value, Caleb lives for the challenge of bringing the vision of his clients to life in their homes, and accepts nothing less than the utmost quality and authenticity in his artistic medium.

Now, 10 years after taking the course that would change his life, Caleb has officially become one of the owners of The Concrete Countertop Institute. This outcome is a wonderful "full circle" picture of what can happen when you bring ambition, trial/error, experience, and education together.

At the helm of CCI, Caleb will be stepping into the role previously held by Lane Mangum, who is stepping down to pursue other interests. Caleb hopes to bring a new perspective to the next generation of artisans and craftspeople as he seeks to better the industry alongside his mentor, and now business partner, Jeff Girard.
Letter from Caleb:
Hello concrete enthusiast,

I am thrilled to share some exciting news! I have been an active part of The Concrete Countertop Institute (CCI) for several years, hosting classes and collaborating with the incredible team. Today, I am delighted to announce that I have officially joined the CCI ownership team.

After a decade of practicing the art of concrete and running my own business, Lawson Design, I am honored to take on this new role. Lawson Design will continue as a premier provider of our craft, and I will be stepping into the role previously held by Lane Mangum, who has decided to pursue new ventures outside of CCI. I am grateful for Lane's immense contributions and wish her all the best in her future endeavors!

With my deep passion for handcrafted concrete, and my commitment to advancing the industry, I am excited to bring my expertise and vision to the table. As a member of the CCI ownership team, my primary focus will be leading the business side of CCI, overseeing marketing, and spearheading forward thinking initiatives to further foster our mission: your success.

I am genuinely grateful for the trust and support I've received throughout my journey, and I am confident that this new chapter will enable us to serve customers even better. Together with the talented team at CCI, I am committed to delivering exceptional training programs, innovative products, and unwavering support to professionals and enthusiasts in the concrete community.

– Caleb
We are thrilled that Caleb has joined the CCI team and look forward to great things to come.