Do you want to be more creative?
GFRC is the perfect medium for your concrete countertops, furniture, sinks, fire features, wall panels and more.
Learn the right way to make GFRC:
– Get a solid foundation for your creativity.
– Learn not just how, but why.
– Get both style and substance.
When done right, GFRC is extremely strong, flexible (literally) and durable. Learn how to make GFRC the right way by learning not just how, but why, from an engineer who will teach you sound principles that give you a solid foundation for your creativity. Only then can you confidently express your own creativity without worrying about callbacks.
To be successful with concrete, you need an understanding of what it really takes to produce GFRC. You need the knowledge that gives you both substance and style. This is the only class where you'll learn that fundamental knowledge.
Why should you take this class? Because you are a professional who takes pride in his/her work, and you want to do it right the first time.
Break through all the confusion, and learn fundamental knowledge that translates to any mix. Gain the confidence to take concrete to the next level by truly understanding GFRC.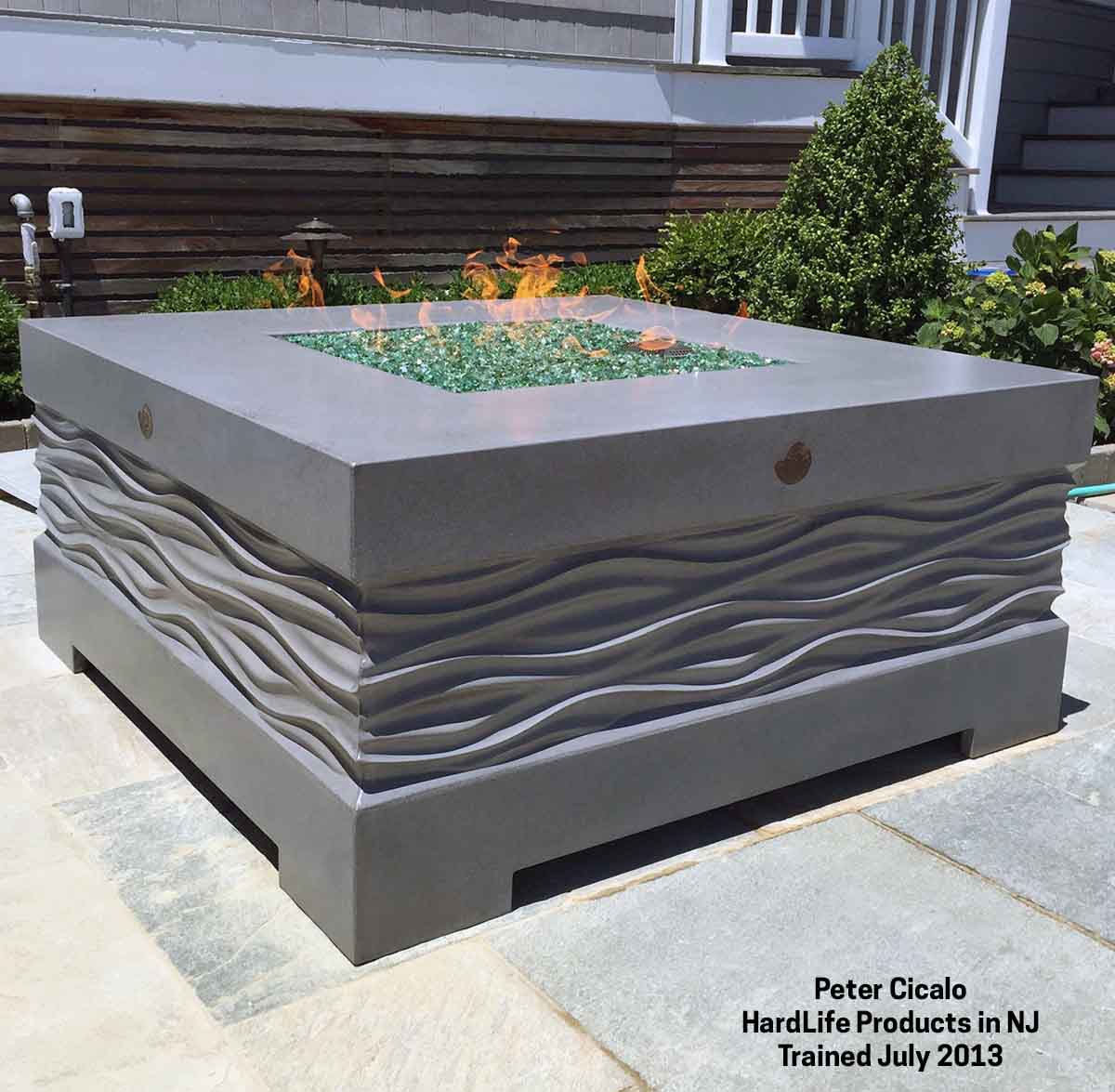 What can I expect from this training?
In this 2-day class, you will make 2 practical and profitable projects that teach you how to create countertops, integral sinks, furniture and curved 3-D pieces.
What you will learn:
– Mold making for countertops and integral sinks
– Sink and faucet layout
– The from-scratch mix formula and calculator for a simple, 100% successful, properly engineered, GFRC mix
– How to spray mist coat correctly for the best finish
– How to apply backer coat correctly for the strongest concrete
– When to use scrim for extra strength
– Foam coring for even lighter weight
– Grinding and polishing GFRC
– How to seal GFRC
– Detailed list of exactly what products you need (and don't need) to get started
What you will receive:
– Over 200 pages of extensive reference materials PLUS a 54-page textbook on GFRC
– 2 hours of live action videos on GFRC – A great refresher/reference to remind you of what you learned in class!
– 4 hours of GFRC online seminars
– A diploma
– Post-class support
How can I learn so much in just 2 days?
Well-designed mixes, proper casting techniques, and effective curing methods. This 2-day class maximizes your learning while minimizing your time away from your business and family.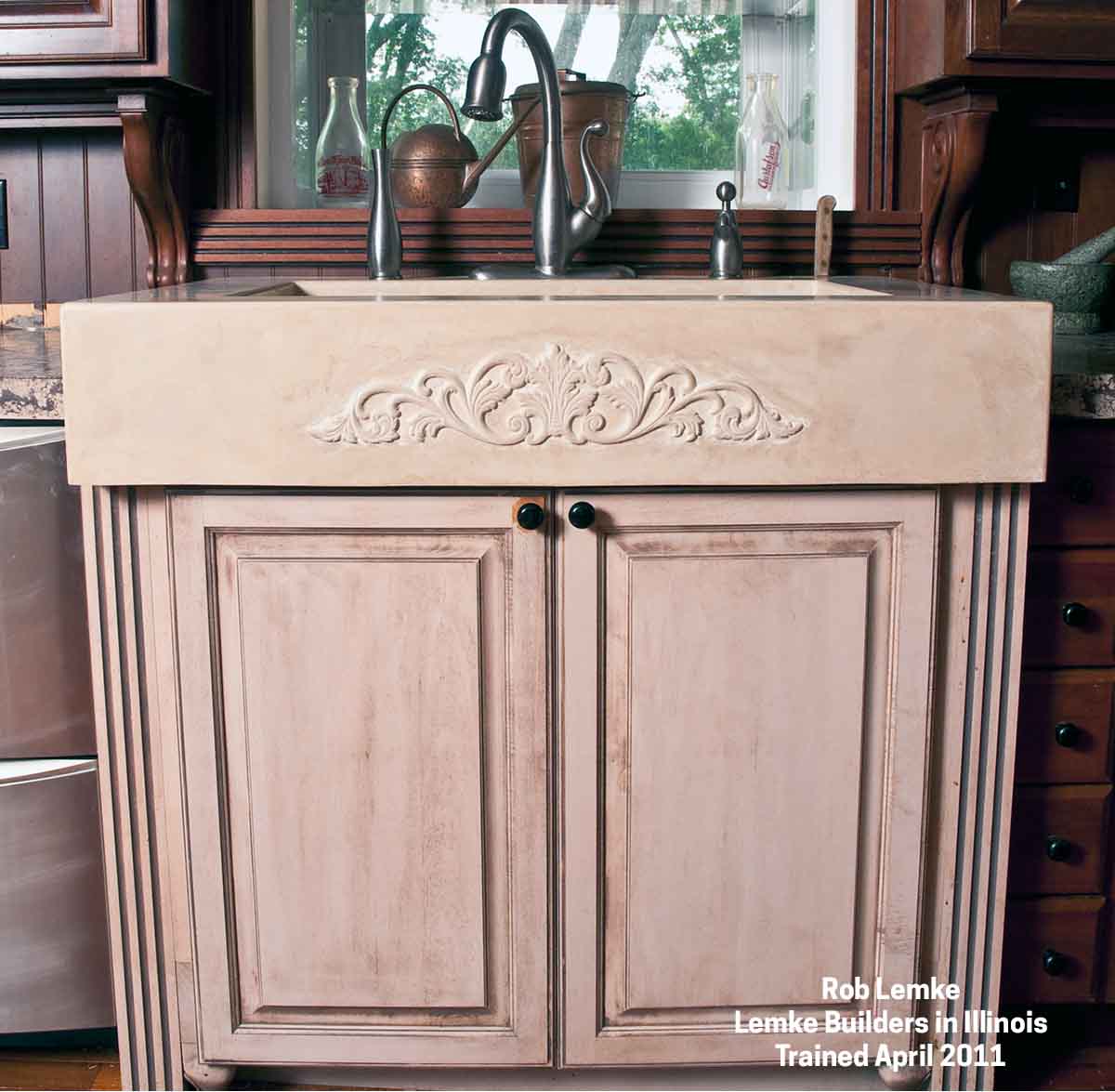 Why should I take this class rather than some other GFRC class?
– Learn not just how, but why.
GFRC is a highly specialized material with decades of research that show it requires certain fundamental ingredients such as polymer and certain construction techniques in order to perform as expected. When done right, GFRC is extremely strong, flexible (literally) and durable.
Unfortunately, in the concrete countertop industry there are many cavalier approaches to GFRC that ignore these fundamentals and instead rely on trial and error. CCI approaches GFRC conservatively, preferring to stick with sound, proven principles even if they require a little more work or more polymer or fibers. You will have 100% confidence in your GFRC made with these techniques – after all, those who construct massive building panels have relied on them for decades.
Engineers make things only as complicated as they need to be so that the building or bridge doesn't fall down. Be certain your GFRC creations won't fail by relying on sound engineering principles. The laws of physics don't change with the seasons, so that's why our information doesn't change with the seasons.
– Make a sound investment of your money.
There are cheap classes out there. There is only one reason a vendor would offer free/cheap hands-on training, and that is to sell product. We prefer to price our training based on its value, making it a sound investment for professionals interested in long-term good business practices.
There are also expensive classes that emphasize style. The value of learning the fundamentals of GFRC, of truly understanding not just how but why, is far greater than the value of learning one cool-looking thing. Learning a cool-looking thing won't make you successful. Fundamental technical understanding will.
But don't take our word for it. CCI alumni have proved over and over that CCI training WORKS. As Jeff says, "I don't need to brag about my own accomplishments, when so many of my alumni all over the world have used CCI training to build a foundation that made them successful." That's the real proof that training is worthwhile. See the proof here.
– Practical considerations of the ease of travel, plus the class experience.
Consider also when choosing a class, the location. Our training facility is located in the beautiful Asheville, NC area, filled with spectacular scenery, historical landmarks, and award winning food and breweries. Click here for more information about our location.
The bottom line is: When you're considering professional training ask yourself, "Where's the proof that this training works?"
– Am I learning fundamental knowledge that I can build on for years to come?
– What level of reference materials and support will I receive?
– Are alumni running successful businesses? Ours do.
There are a lot of training classes out there, and ideally everyone would attend every class. If you can attend multiple classes, come to CCI first to get a solid foundation. If you have to choose just one, choose the class that gives you a solid technical foundation to build your business on.
Join us today: Click here to register now.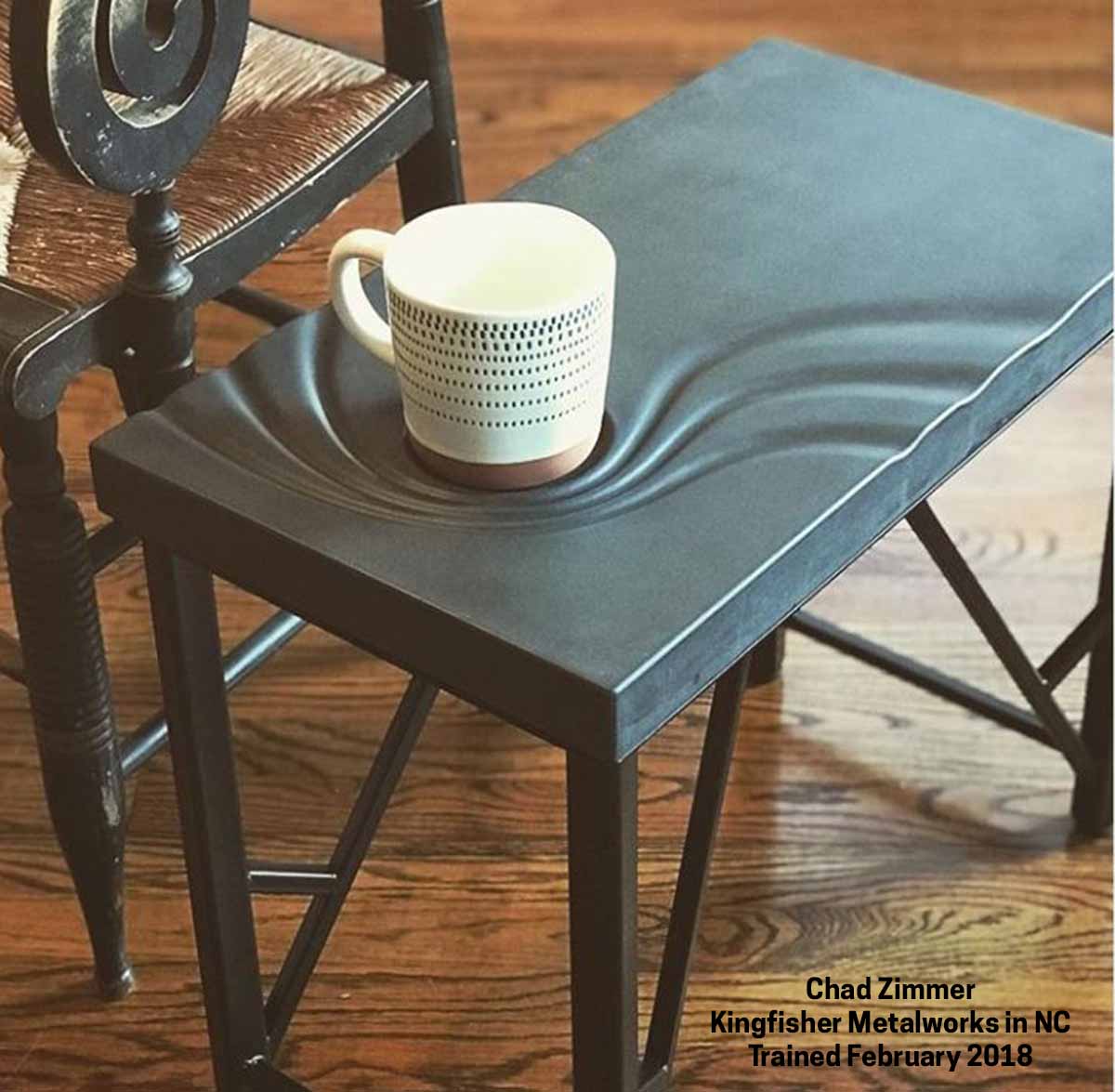 Ignite Your Concrete Creativity Today
There are limited seats available in this highly sought-after course. Enroll today and start creating with concrete, confidently.
Course Specifics
Duration: 2 days (Thursday-Friday)
Location: Lawson Design Studio, Canton, NC
One-time investment: $895
Next Session: February, 2024 (Stay tuned for future dates)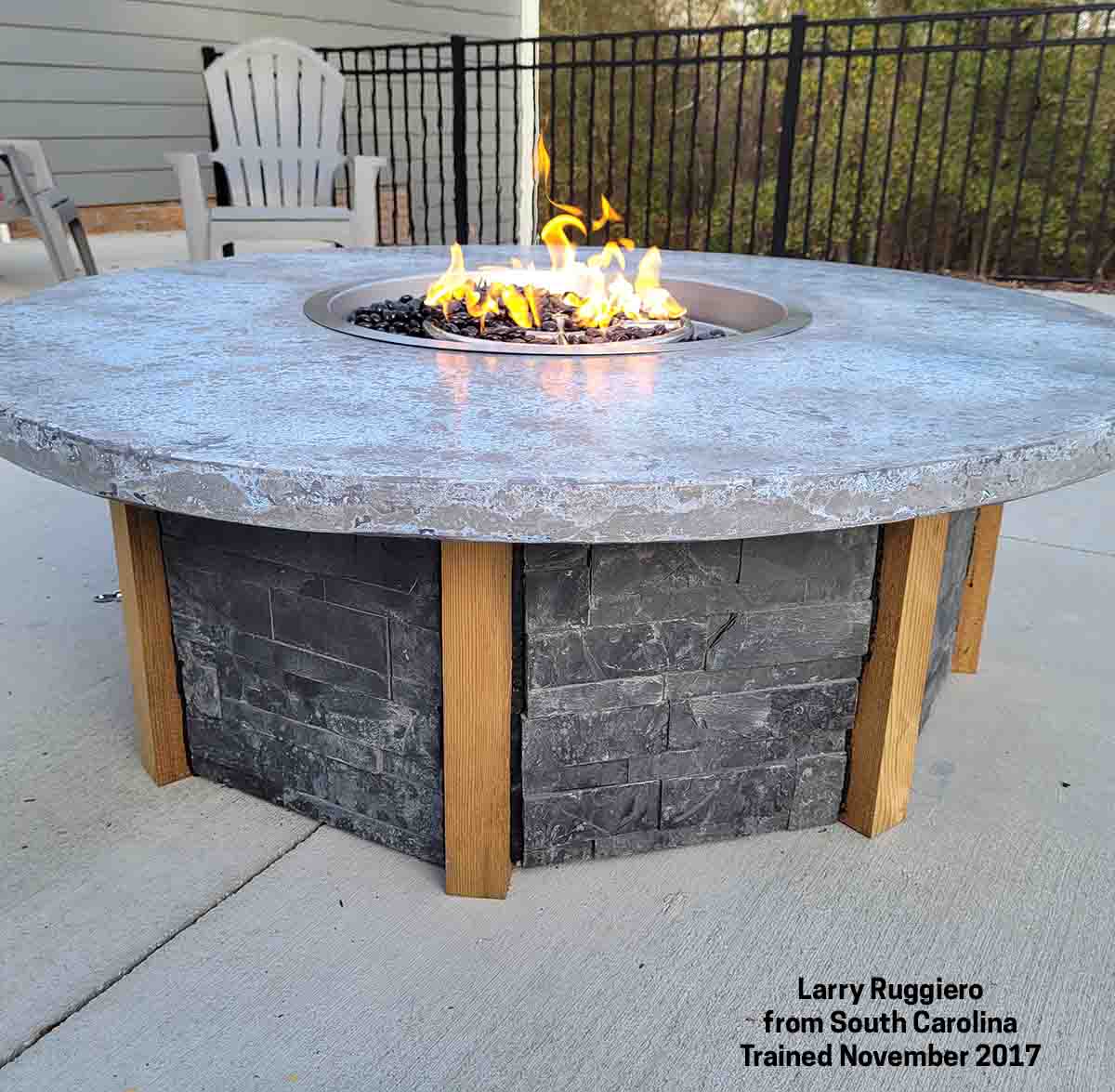 Got Questions? We've Got Answers!
Here are some of the most commonly asked questions about the course. Check out the details, or just sign up now before it's too late.
Still have more questions? Caleb is happy to speak with you directly. Call or text him at 321-438-5106 or email [email protected].