Finale DIY Concrete Countertop SystemTM
Transform your countertops to concrete the fast, easy, and affordable way.
FAST
Transform your old, outdated laminate countertops and get the kitchen you've dreamed of without the mess, time and cost of replacement. Resurfacing your countertops with real concrete takes only one weekend and radically changes the look of your kitchen from drab and dated to modern and elegant.
EASY
Finally! DIY concrete countertops that are truly easy. No forming, no mixer, no reinforcement, no installation! It's as easy as frosting a cake. Simply apply Finale over your existing laminate countertops. It's real concrete, without all the dust and the mess and the weight, in a simple system developed by The Concrete Countertop Institute.
AFFORDABLE
Finale costs a small fraction of professional concrete, less than $5 per square foot. For only about $200, you can completely transform your countertop. There's also no need to buy expensive or specialized equipment. The Finale system uses common household tools such as a cake mixer!


PROPERTIES OF FINALE DIY CONCRETE COUNTERTOP SYSTEM
Lightweight
Finale weighs only about 1/3 pound per square foot. Compare that to 1.5″ thick traditional concrete at 18 pounds per square foot, over 50 times heavier!
Each layer of Finale is only 3 cups of mix. No mixing heavy concrete in heavy equipment. Just use a kitchen mixing bowl and handheld cake mixer, and apply with a spatula or trowel!
Safe
VERY LITTLE DUST! Finale Concrete requires only light hand sanding, a quick and easy process that produces minimal dust.
Our recommended sealers are water based and completely food safe.
Foolproof
With Finale, you don't have to worry about doing a whole bunch of work forming, mixing, reinforcing and casting only to have your concrete turn out bad. If you're not satisfied with the finish or the color, simply apply another layer.
It's so easy, anyone can do it without any special skills or training. Just follow the videos with clear, detailed instructions to ensure success. All of the knowledge and experience of The Concrete Countertop Institute went into developing a system without any guesswork. You can be confident in this concrete!
Versatile
Finale Color gives you a full range of natural color options, including black, white/off-white, tan, and a range of grays. Add Glazes to deepen the natural tones or add bright colors.
Ovation and Omega sealers give you additional options for color enhancement and sheen.
Beautiful
Finale is real concrete. It gives you the beauty of concrete without the difficulty of traditional concrete casting methods.
Finale has natural variation and movement that are actually hard to achieve with traditional concrete casting. Your countertop will be a unique work of art.
COVERAGE & COST
One kit covers approximately 45 sq ft using 3 coats of the recommended thickness.
The kit price of $199.99 works out to $4.44 per sq ft.
Finale can be used to cover either laminate or plywood. The only difference is that laminate requires 1 coat of Primer, whereas plywood requires 3 coats of Primer.
KIT COMPONENTS
The Finale DIY Concrete Countertop System includes the following components:
Base kit including Finale Primer 32 oz  (1-3 coats of 45 sq ft each) and Finale Concrete 18 lbs (3 coats of 45 sq ft each)
Finale Trowel for applying the concrete
60 grit diamond hand pad for surface prep and sanding
60 mL syringe for measuring water
Additional components (included at a discounted price in the Full Kit):
COLORS
Finale has a natural off-white appearance. For color options, we offer Finale Color 8 oz in Mist (warm gray), Iron (neutral gray), Ebony (black/cool gray), Dune (tan) and Ivory (white).
The color guide shows some of the amazing possibilities and specifies how many 8 oz bottles to purchase and formulas for how many teaspoons or tablespoons to use per 10 sq ft.
Please note that powdered pigments do not work with Finale. The liquid Finale Colors are specifically developed to work with Finale Concrete.
TOOLS AND MATERIALS
The Finale process uses basic tools and materials you likely already have in your kitchen and garage. No large, expensive, or specialized tools are needed. For example, Finale DIY Concrete Countertop System uses measuring spoons, a cake mixer, painter's tape, etc.
Also, the written instructions explain which tools are needed for each step. Please review the written instructions and gather everything you need before starting your project.
OVERVIEW OF THE DIY CONCRETE COUNTERTOP PROCESS
Spend a weekend, and you can have a totally transformed countertop! Here is an overview of the steps:
Friday night: Clean, Scuff, Prime and Apply First Coat
Remove sink
Clean countertops
Scuff countertops
Apply primer and wait 1 hour
Apply first coat of Concrete
(If your laminate is damaged and needs repairs, or if you are changing the edges, you will need to allow at least a full day for these steps.)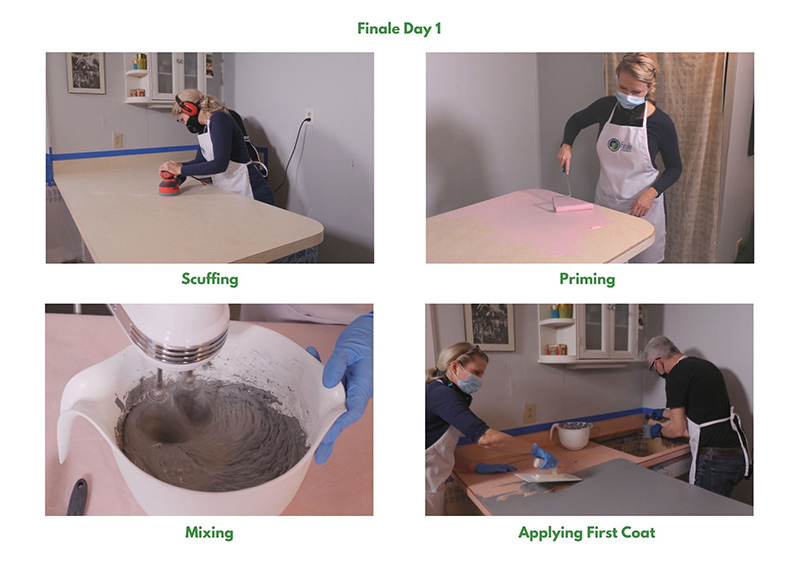 Saturday: Apply Second and Third Coat and Hand Rub
Lightly hand sand first coat (minimal dust)
Apply second coat and wait 3-6 hours until fully dry
Lightly hand sand second coat (minimal dust)
Apply third coat and wait 1-3 hours until 50% dry
Hand rub third coat (no dust)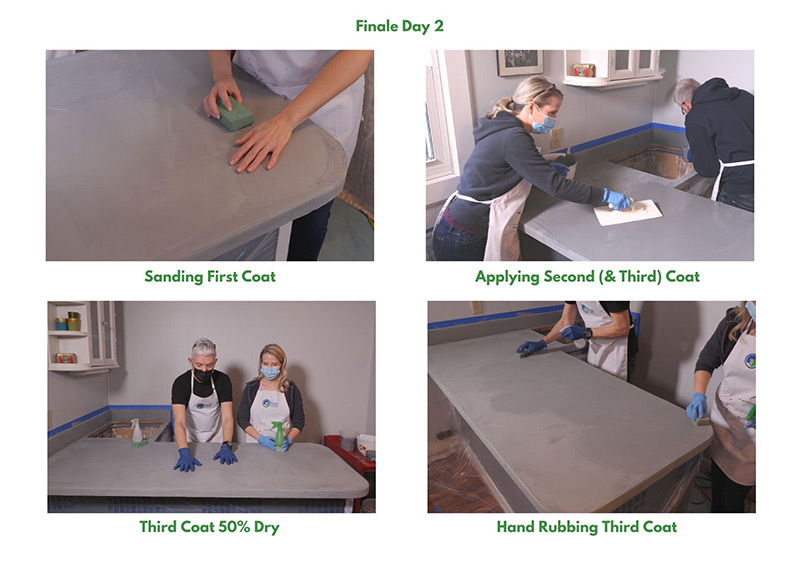 Sunday: Apply sealer
Lightly hand sand third coat (minimal dust)
Apply Ovation or Omega Concrete Countertop Sealer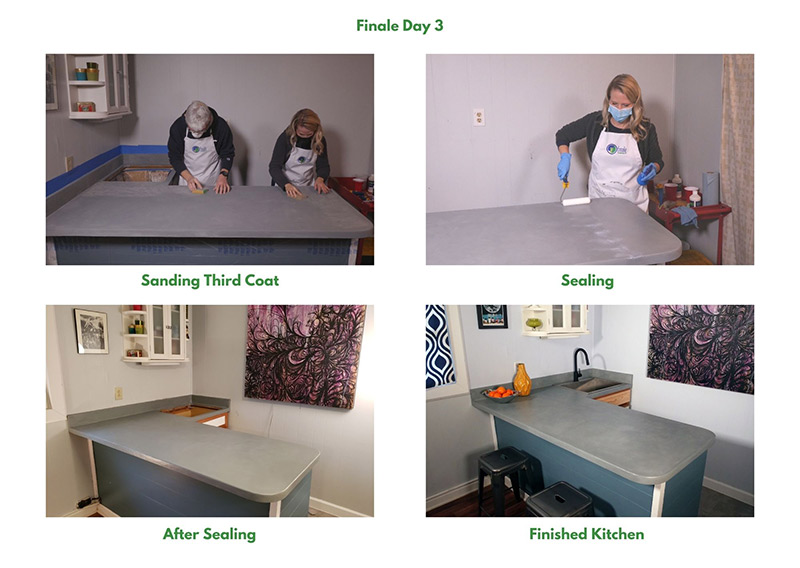 That's it! Give your freshly sealed DIY concrete countertops a day to cure before you re-caulk and re-install your sink, then use care with them for the first week. The concrete and the sealer continue to cure and gain strength and durability that will provide you with a beautiful, functional surface for years to come.
VIDEO INSTRUCTIONS
1. Surface Preparation & Priming
2. Measuring & Mixing
3. Applying the First Coat
4. Sanding the First Coat
5. Applying the Second & Third Coats
6. Hand Rubbing the Third Coat
7. Sealing
WRITTEN INSTRUCTIONS
DOCUMENTATION