About The Concrete Countertop Institute
The Concrete Countertop Institute builds Knowledge, Confidence and Success for anyone who wants to create with concrete.
We help you be creative with concrete and have total confidence in your materials and methods by explaining not just how to do it but why to do it that way. We want you to be successful with your projects, with no problems, no re-dos, and no worries.
You can trust CCI to provide you with the best products and knowledge that will make your concrete creations a success.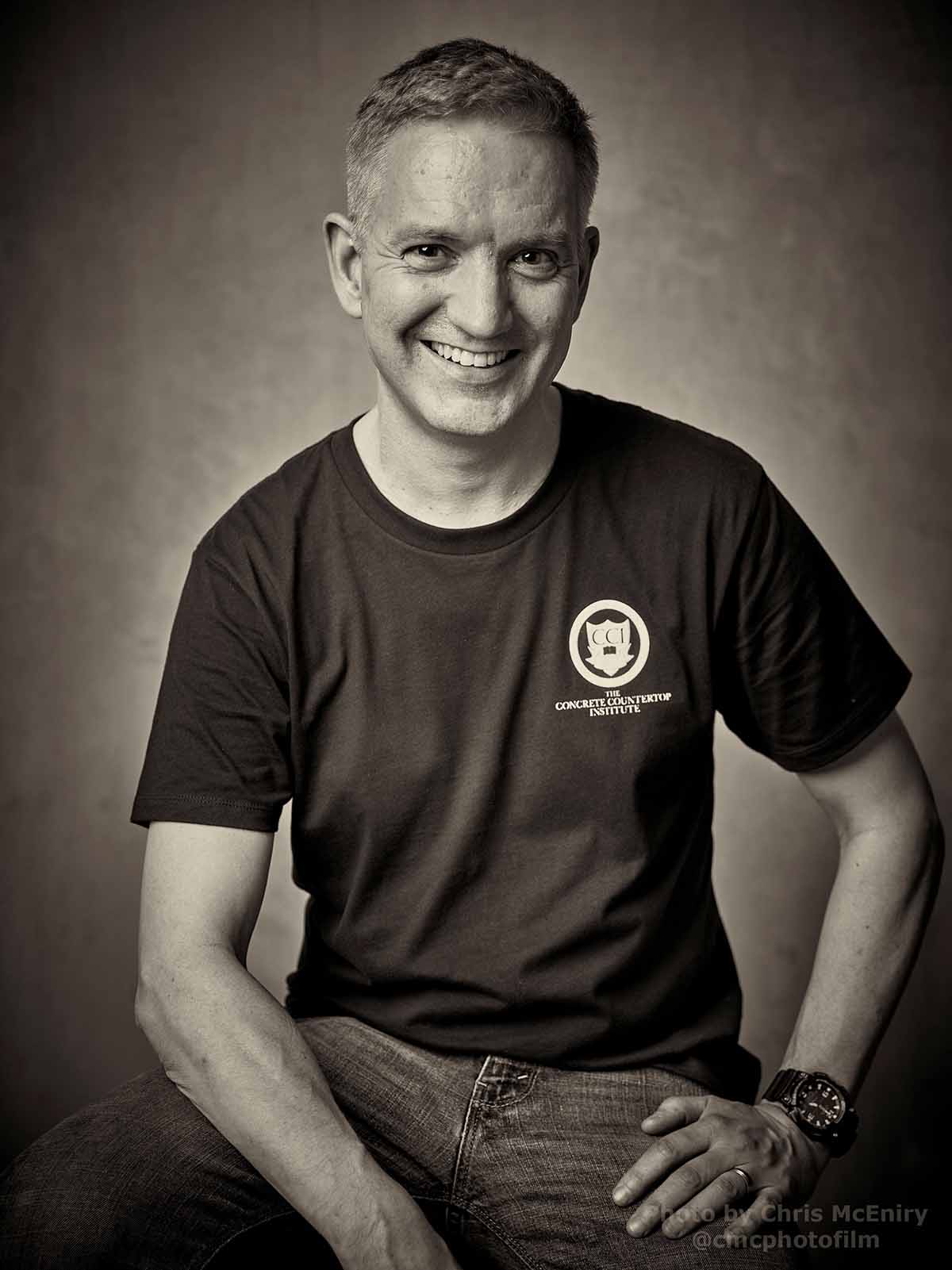 Our founder and president Jeff Girard was the first person to approach concrete countertops from an engineering perspective. He is a licensed professional civil engineer with bachelor's and master's degrees from the University of Massachusetts. Civil engineers must know and understand the materials (such as concrete) they're designing with so that the structures they design can perform safely. Lives literally depend on engineering.
From his very first DIY concrete countertop in 1999, Jeff could make concrete countertops that did not crack, stain or require maintenance. He approached them as an engineering project and developed the mix design, reinforcing and sealer from first principles. Those fundamental principles continue to inform his teaching today.
Jeff explains, "All of my teaching comes from an engineering standpoint, based on sound scientific principles. My approach is not based on experience that comes from making mistakes over and over and eventually finding solutions but not understanding why those solutions work. I will tell you why. I will give you a solid foundation.

That solid foundation, over the 2 decades I've been teaching and consulting, has created thousands of success stories. Let me help you create YOUR success story."
January 1999: Jeff decides to make a DIY concrete countertop, after reading an article about Buddy Rhodes
"I started making concrete countertops back in 1999, when it was virtually unheard-of. All I wanted to do was make concrete countertops for my own kitchen remodel.

My neighbor gave me a stack of home improvement magazines to help give me ideas, and in one of those magazines was an article about this guy in California named Buddy Rhodes. That was the first time I'd ever seen concrete that wasn't gray, and it totally blew me away. To engineers, concrete is just numbers and a utilitarian material, but this concrete was beautiful."
Video: The Fateful Magazine Article

Hear Buddy and Jeff tell the story of that fateful magazine article:
August 1999: Jeff completes his first concrete countertop, after months of engineering R&D
"I had no idea how to color concrete, or to polish concrete, or to make concrete look like that. As I researched how to do this, I found very little information. Remember, back then, there were no books, no videos, no products, just anecdotes on a few discussion boards, from people who had tried it for themselves.

All of those stories had something in common. "It turned out nice, but it stained"; "it worked, but the color didn't turn out"; and, "it came out okay, but it cracked." They all ended in "but". I certainly didn't want a countertop that did that, and I knew I had the background and knowledge to do better.

So instead of following the same problematic path, I started from first principles, and applied my engineering knowledge to figure out how to make concrete countertops that didn't stain or crack, and didn't require a lot of maintenance. I literally pulled my textbooks off the shelf, created spreadsheets to figure out the mix design and correct reinforcing, and finally, after 8 months, created my first concrete countertop."
Video: What Engineering Can Do with Concrete
Jeff was the first person to approach concrete countertops from an engineering perspective. This video illustrates what engineering (and teamwork) can accomplish.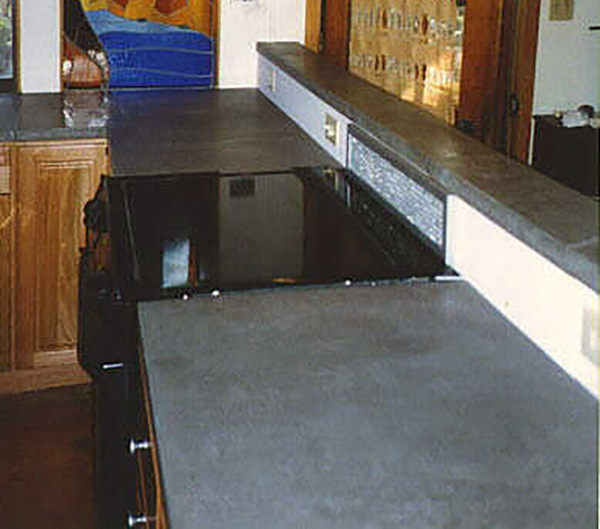 February 2000: Jeff makes his first concrete countertop for a customer
"In the course of doing all this research, I found that there were a handful of concrete countertop companies in major cities like San Francisco, Chicago, New York, Washington D.C., and Atlanta.

I thought, maybe there's an opportunity for this new, upcoming market. So I set up a website, and lo and behold, a few weeks later, I had my first customer."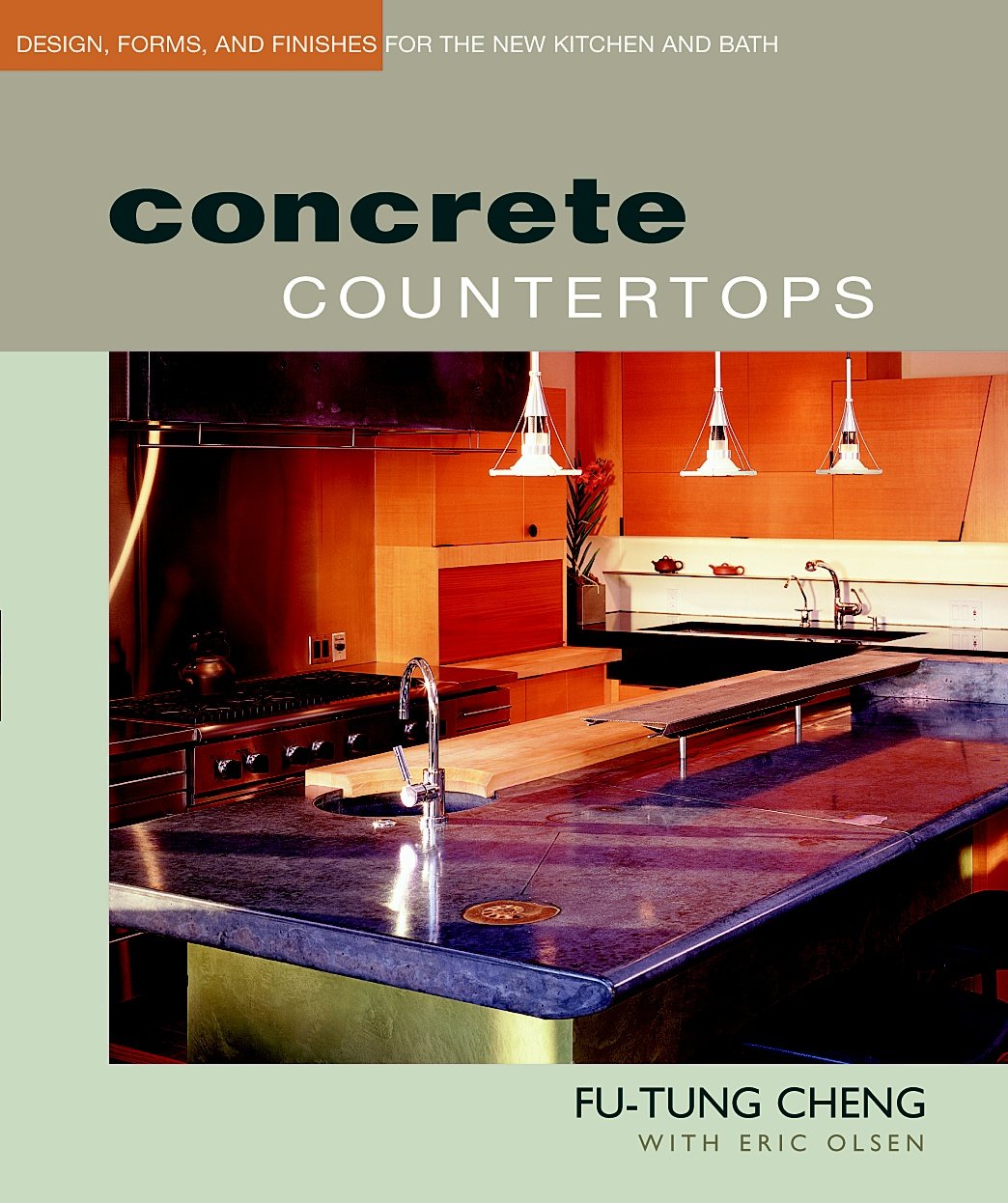 2000-2001: Jeff starts training contractors one on one and meets Buddy, Fu Tung and more
"As early as 2000, contractors started asking me, 'How do you make concrete countertops that don't stain and crack?' I started helping a few contractors one-on-one.

Then in October 2001, I was invited to the first concrete countertop summit, hosted by Steve Rosenblatt of Sonoma Cast Stone. There were 8 people there, including Buddy Rhodes and Fu Tung Cheng. Fu Tung showed us a slide show of his book-to-be.

That book came out in early 2002, and then the interest in concrete countertops exploded. More and more contractors were getting into it, with a variety of success and quality levels.

I continued to train one-on-one until I saw that I was just never going to make a dent that way. There were too many people getting into this, and too many instances of clients having bad experiences. I was really afraid the concrete countertop industry would be ruined."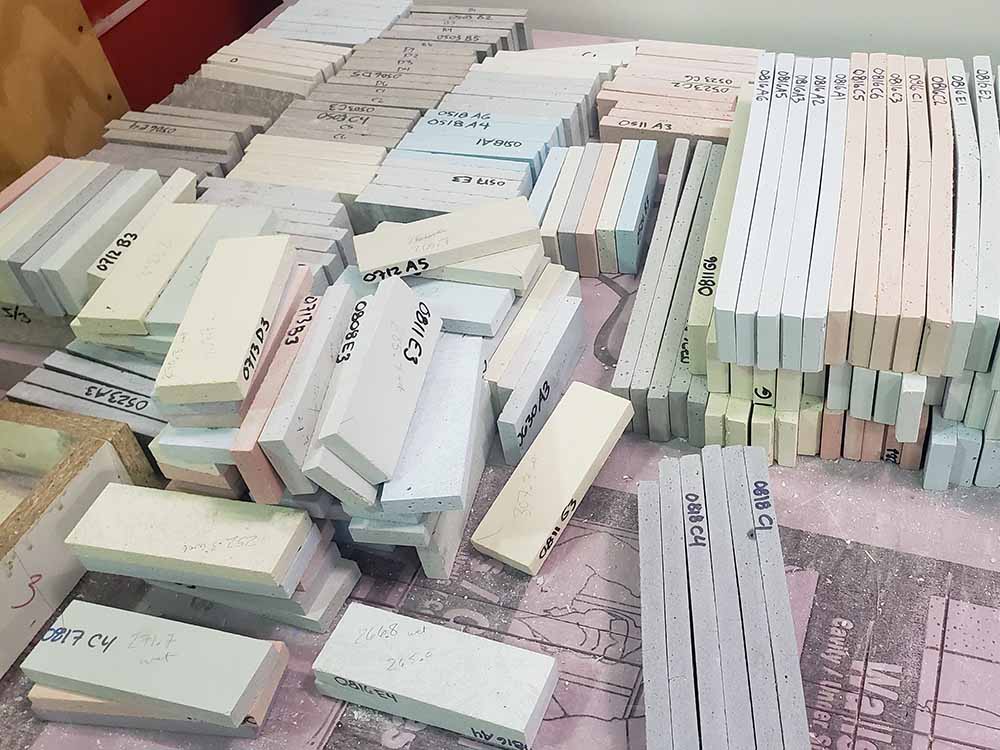 The Evolution of Training
Jeff continues, saying:

"That first class, we created a simple concrete countertop, using an all-sand mix.

Over the years, I've kept up with the latest products and techniques, and carefully adopted the ones that really made an impact on students' businesses, such as GFRC.

I've also applied rigorous, quantitative testing to products like sealers and admixtures, to determine whether they really worked and solved a business problem for concrete countertop pros. This has always been my approach - hard data over anecdotal evidence, rigorous testing over casual experience, determining why over just blindly following a recipe or the latest fashion.

That is what CCI is all about - learning both the how and the why behind it, so you have a solid foundation of technical knowledge on which to build your creativity."


CCI continued to grow and to influence the concrete countertop industry: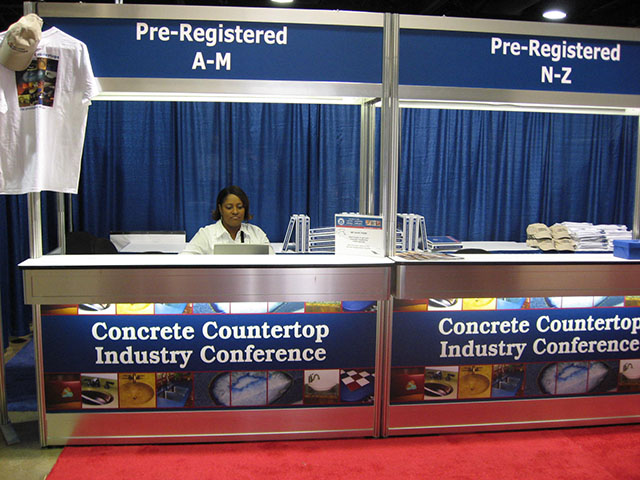 2006: CCI hosts the first Concrete Countertop Industry Conference
Back in 2006, there was no social media. Most concrete countertop pros were laboring in isolation. So CCI decided to bring people together, in person.

CCI hosted the first Concrete Countertop Industry Conference in Raleigh, NC. 150 people attended. For many attendees, it was the first time they had ever met another concrete countertop professional.

We held the 2007 conference at the Charlotte, NC convention center with 250 people, and then the 2008 conference at the Sacramento, CA convention center with 400 people.

With the advent of social media, as well as the global financial crisis, we chose not to continue the conferences. But we were honored to be a part of bringing concrete countertop professionals together for the first time.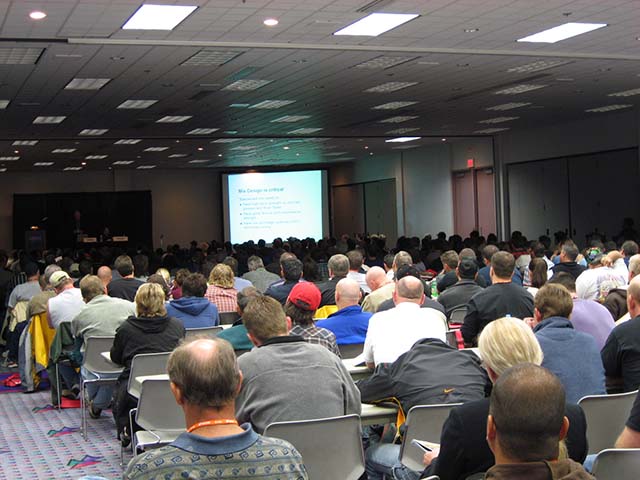 2007: Jeff begins speaking at World of Concrete
In 2007, World of Concrete asked Jeff to present a seminar as part of their paid education program. He went on to teach dozens of seminars and workshops to thousands of World of Concrete attendees.

He has also spoken at many industry conferences including Concrete Decor Show, International Woodworking Fair, Surfaces, International Surface Fabricators Association, Stone Expo and more.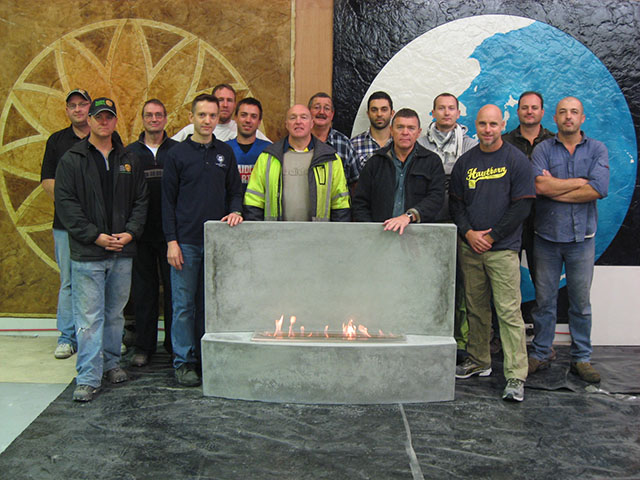 2010: Jeff begins training and consulting worldwide
Jeff taught his first international class in June 2010 in Melbourne, Australia. He subsequently traveled for classes or consulting to Finland, Sydney Australia, England, Singapore, Cayman Islands, India, New Zealand and more.

Jeff continues to offer one on one consulting. See www.concretecountertopinstitute.com/consulting for more information.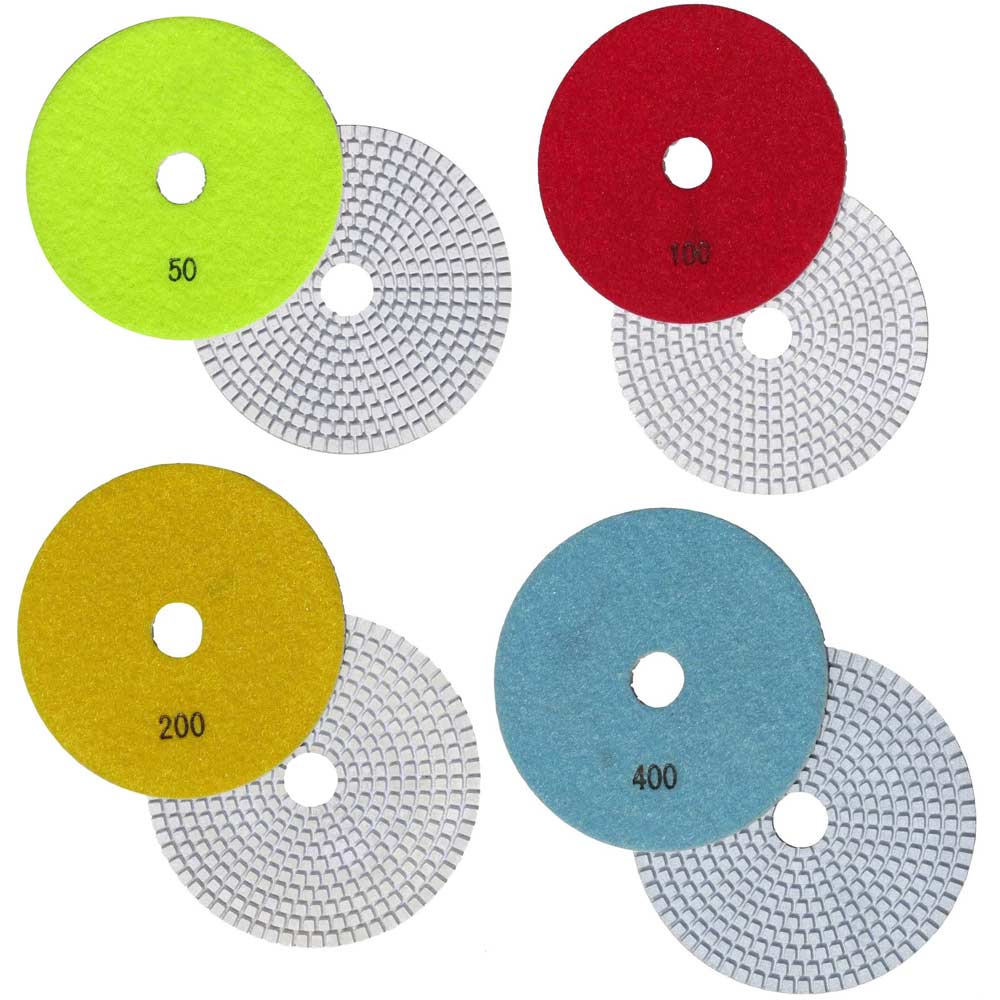 2011-2013: CCI expands its offerings to self-study training and products
While hands-on training is always best, many topics can be learned via seminars or live action videos. CCI developed self-study programs with videos and seminars, and continues to offer them here: www.concretecountertopinstitute.com/self-study

CCI also found that hands-on training attendees were struggling to find the tools and materials they needed. We began sourcing and stocking select products at a distribution warehouse. See our selection here: www.concretecountertopinstitute.com/shop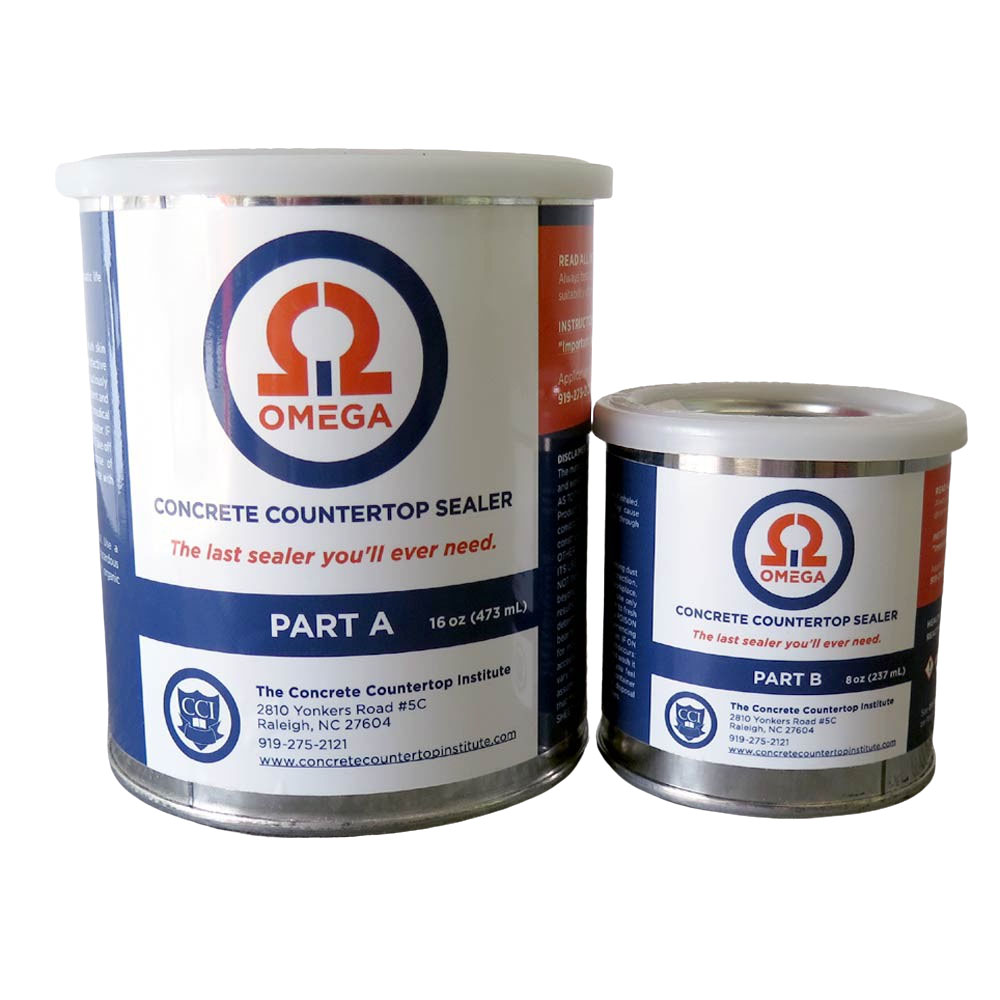 2018: CCI launches Omega Pro Concrete Countertop Sealer
Sealers are the Achilles Heel of the concrete countertop industry. While Jeff has always used sealers that don't stain or etch, in the past those sealers came with a big cost: They were either very toxic or very hard to apply or both.

Finally he had had enough. He did the R&D needed to solve the problems that had plagued concrete countertop sealers for decades. CCI started offering Omega publicly in January 2018, and over 5000 people have used it since then.

We also saw a need for a very simple sealer for DIYers, and in June 2020 launched Ovation DIY Concrete Countertop Sealer.

Learn more about Omega here: www.concretecountertopinstitute.com/omega
Learn more about Ovation here: www.concretecountertopinstitute.com/ovation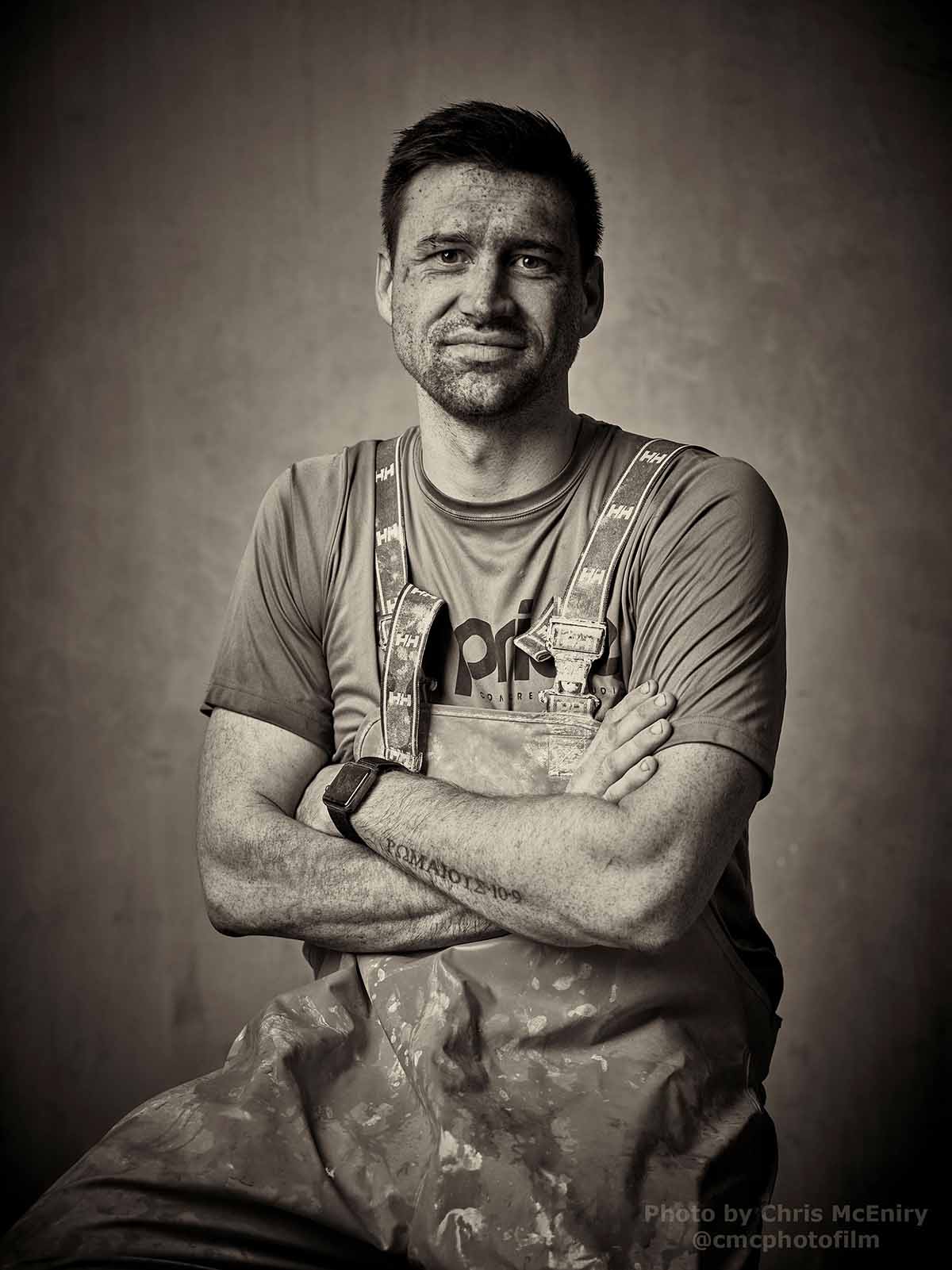 2020: Alumnus Caleb Lawson joins CCI as co-instructor
We continue to be devoted to the success and growth of our alumni all over the world. Almost 2000 people have trained hands-on with CCI, and most have gone on to create amazing things with concrete.

A star example is October 2013 alumnus Caleb Lawson of Lawson Design in Canton, NC. Jeff says of Caleb, "Caleb took my training and his skill and dedication and built a highly successful business. He is a shining example of exactly what I want for all of my alumni: to give them the knowledge they need to be successful.

And now, Caleb co-teaches with me at his working studio in Canton, NC. I am happy and excited to call Caleb a colleague and a friend." Train with Jeff and Caleb at The Ultimate Concrete Countertop Training.
The Future: Our Alumni
Jeff never had children; his alumni are his legacy.
Jeff says, "It's been a privilege for me to help so many through the joys and the frustrations of creating with concrete.
My biggest hope, and my biggest source of joy, is that I can make your creative concrete journey a little easier. My mission is to give you a solid technical foundation as well as business guidance to be successful in your endeavors, freeing you to focus on your creativity and the real meaning to you of creating with concrete.
I am honored and humbled that I've had the opportunity to teach and mentor so many people. I am proud to build a community of concrete professionals who pour hard work and pride into their businesses. They now continue my original mission of raising the standard for the concrete countertop industry."
Whether you need products, self-study training, hands-on training or consulting, CCI is the resource you can trust. Let us know how we can help you create with concrete. Contact us today.
Here's Jeff explaining the whole story of how he got started: