NEW! Introducing Ovation:
the safe, simple, and effective sealer for everyone.
Water based and food safe
Easy enough for DIY projects
High performance enough for pro projects
Concrete Countertop RESOURCES
SUCCESS STORIES from our Hands-On Concrete Countertop Training
CCI Alumni Event | 2019-04-12 | Orlando, FL
Twenty CCI alumni recently converged on the shop of alumnus Caleb Lawson of Price Concrete Studio in Orlando…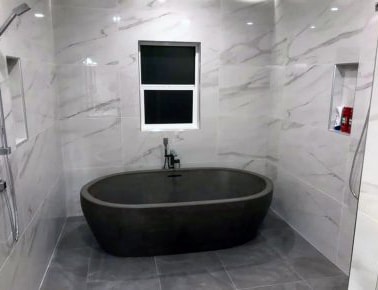 Brent Indenbosch | 2019-03-20 | Chilliwack, BC
When you make massive custom concrete creations, sometimes delivery is the trickiest part! Concrete tub by Brent…
Justin McRae | 2019-02-13 | Athens, GA
"I still can't believe how many doors have opened since training with CCI – cashed in my savings bonds (thanks Grandma) drove to…
Wayne Fry wasn't ready to give up working when he retired from his veterinary practice. The truth is that retiring from his first…
Caleb Lawson | 2019-03-31 | Orlando, FL
Caleb Lawson of Price Concrete Studio in Orlando, FL created these concrete couch bases on a rooftop in Miami Beach. He's on top…
Thomas Lancaster | 2018-04-24 | Alpine, TX
Thomas R. Lancaster of Alpine, Texas, has two web pages, one for each side of his GFRC work. One of his sites is for what he describes as his…
FREQUENTLY ASKED QUESTIONS ABOUT CONCRETE COUNTERTOPS
If  you are a homeowner considering concrete countertops for your kitchen or bathroom, here is some basic information about the most frequent questions and misconceptions about concrete.
High quality concrete will give you a beautiful, smooth and durable surface that you will love, and that is easy to clean and care for.