This intensive self-study course includes:
Every detail of precast and GFRC concrete countertop construction methods, from templating to installation
Detailed live action videos for exactly how to do GFRC
Completely understand from-scratch mix design, reinforcement and sealing
Detailed instructions on how to reinforce complex shapes, how to deal with undermount sinks, and the best sealers for stain resistance
Learn what professional-grade tools you need to invest in, and which ones you don't
Result: You'll be equipped with the understanding and the professional-grade tools to create a wide variety of kitchen and bathroom countertops, sinks, furniture and more, for yourself and for clients.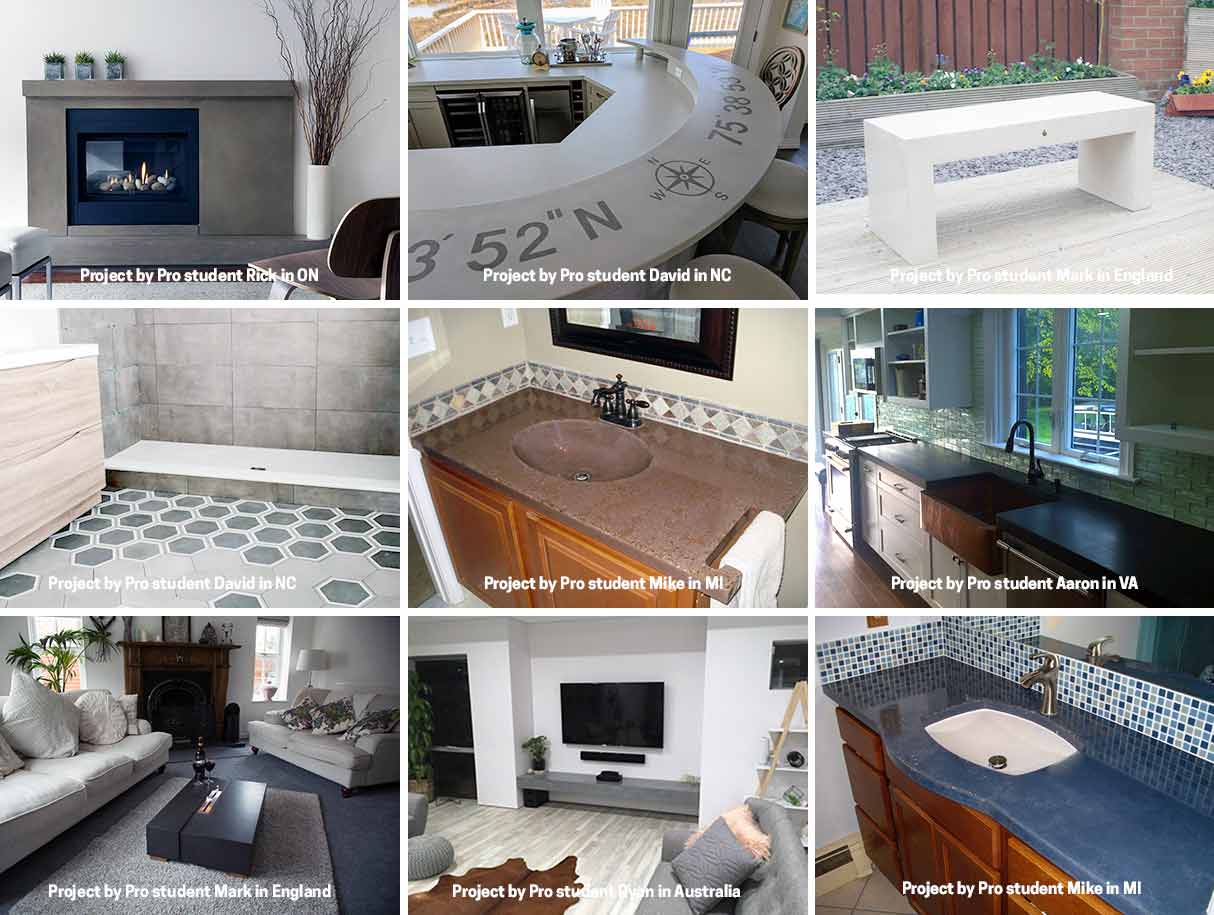 "This was one of the best decisions I ever made by choosing your methods on how and why. I'm in my 3rd year after studying the pro course. I try to read or watch a video in each part of my day so I can sharpen my skill set and improve my product. It's fun like a big art project." – Jeff in MI
What you'll get:
– Mix calculators for both precast and GFRC from-scratch mixes, that do all the math for you, compute costs, include color formulas, and print out an easy to use batch report.
– 355 pages of textbooks for precast and GFRC that contain complete explanations of how concrete works and why, detailed step-by-step instructions, and multiple diagrams and photographs about:
Professional templating methods
Professional forming methods
How to construct casting tables
Reinforcing of both simple and complex shapes, including large sink holes, curves, and cantilevers
Principles of concrete countertop mix design
Precast mix formulas for 2 mixes, one all-sand and one aggregate-based, that achieve compressive strengths of over 4000 PSI in 1 day
GFRC mix formula
How to cast and cure, and what concrete is actually doing when it cures
How to grind, hone and polish
Grout formula
Detailed information about sealer chemistries, from acrylic to urethane, and how to apply professional-grade, stain-proof sealers
How to transport slabs to the job site
How to achieve the perfect installation, including undermount sinks
List of all the professional-grade materials, tools and equipment you really need, and where to get them
– Detailed, live action videos for exactly how to do GFRC.
This is the most comprehensive, detailed self-study course on all the technical details of how to make precast and GFRC concrete countertops. Order now.
PS – Want to start a business doing this? Consider our How to Start (and Succeed at) a Business Making Concrete Countertops course instead. It includes everything in this course, PLUS all of the business help you need, such as how to price concrete countertops and market them to high end clients and designers.