The Artistry of GFRC: Fine Concrete Art and Custom Concrete Countertops by Thomas Lancaster in Texas
Thomas R. Lancaster of Alpine, Texas, has two web pages, one for each side of his GFRC work. One of his sites is for what he describes as his "day job," Marfa Cement Works, which produces custom concrete countertops for residential and commercial clients. His other site, Thomas R Lancaster, features his other GFRC creations: fine art pieces.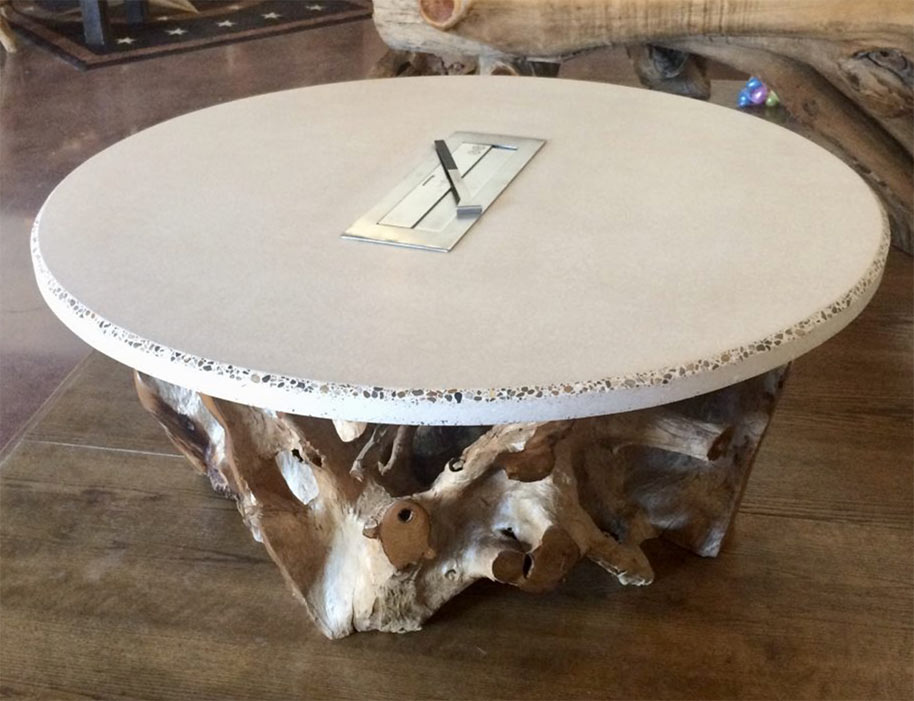 Successful Concrete Starts Somewhere
Lancaster, a 2011 graduate of The Concrete Countertop Institute, got his first GFRC job in 2012, creating a bench outside an art gallery in Marta, Texas.
"It was one of my largest GFRC jobs," Lancaster says. "They were remodeling the building and the architects, they were out of Oklahoma, hired me. They gave me the design of the tables and benches and I built it. It was a pretty big project for my first one."
The piece is quite large. The tabletop measures 11 feet by 3 feet. The benches, which are divided into two sections, are 6 feet and 4 feet long, respectively.
"It took close to a month and a half of work," Lancaster says. "It seems like it took longer, of course; waiting on people, coordinating things, lots of logistics."
Logistics, however, is something that Lancaster enjoys. Completing the bench and table in Marta involved coordinating with other professionals, and quite a bit of preparation.
The finished design incorporates a steel I-beam, which runs down the middle of the piece. This was installed by metalworkers. Lancaster then poured the concrete pads into which the benches were seated and installed the rest of the piece. The end result, as seen in the image, has a peculiar visual effect when viewed in person.
"It kind of gives the appearance that it's floating. That was the architect's design," Lancaster says.
Lancaster was able to take on such a complex GFRC project for his first outing, despite not having extensive experience with concrete countertops before attending CCI.
"I did concrete countertops in my house," Lancaster says. "I bought a DIY book. Once we got those in, I decided I wanted to pursue GFRC seriously. That's when I found CCI and got the proper education."
When Lancaster finished his education at CCI and went into business in Alpine, he didn't even have a space set up.
"I had to go back and build a studio before I could even start. I had no place to even make concrete," he says.
Lancaster lives in the Big Bend area of Texas, near the US/Mexico border. The area is noted for its natural beauty, but Lancaster points out that the remoteness of the region can make it challenging for businesspeople. Nonetheless, his portfolio at Lancaster Concrete Designs features several impressive countertops and other features, and he continues to expand upon his artistic work.
GFRC as an Artistic Medium | Making concrete art
In addition to building a concrete countertop business, Lancaster launched a career in the fine arts.
"Of course, I use concrete as my medium, mainly," Lancaster says. "I've separated them into where I can have my concrete countertop business and my artist website."
Lancaster is currently being shown on curated art sites, having his works displayed in galleries, and he recently won third place in a competition in Toronto with one of his sculptures.
"My goal is to get where I can do artwork all the time,' Lancaster says. "Furnishings and other pieces. I'm looking to take it in an artistic direction."
Lancaster's pieces already show off a distinctive style. Some of his designs incorporate wood and metal into the concrete, feature complex geometrical and numerical patterns, and utilize the versatility of GFRC to lend to the pieces engaging lines and shapes. Some of his pieces incorporate LED lighting into the work. Many of his pieces have a very modern feel to them. He says that describing his style, however, is challenging.
"That's a difficult kind of question there," he says. "I think it has a futuristic appeal to it, for sure. It almost has somewhat of an extraterrestrial look to it, but I wouldn't say that's my 'style.'"
A piece entitled Sacred Geometry Concrete Throne, featured on his site showcases how Lancaster's use of mixed media, including concrete, wood, and metal, combined with very intricate decoration, imbues his pieces with a unique look. He finds that GFRC is entirely flexible enough for his creative endeavors.
While Lancaster would like to eventually work entirely in the fine art world, the countertop side of his business provides a sort of "day job" at present, and some of his artistic tendencies certainly find expression in his countertop work, as is visible in his portfolio.
Lancaster's work, from both his countertop and artistic endeavors, can be found on his websites, which also feature a list of his current and past exhibitions.