What engineering (and CCI alumni) can do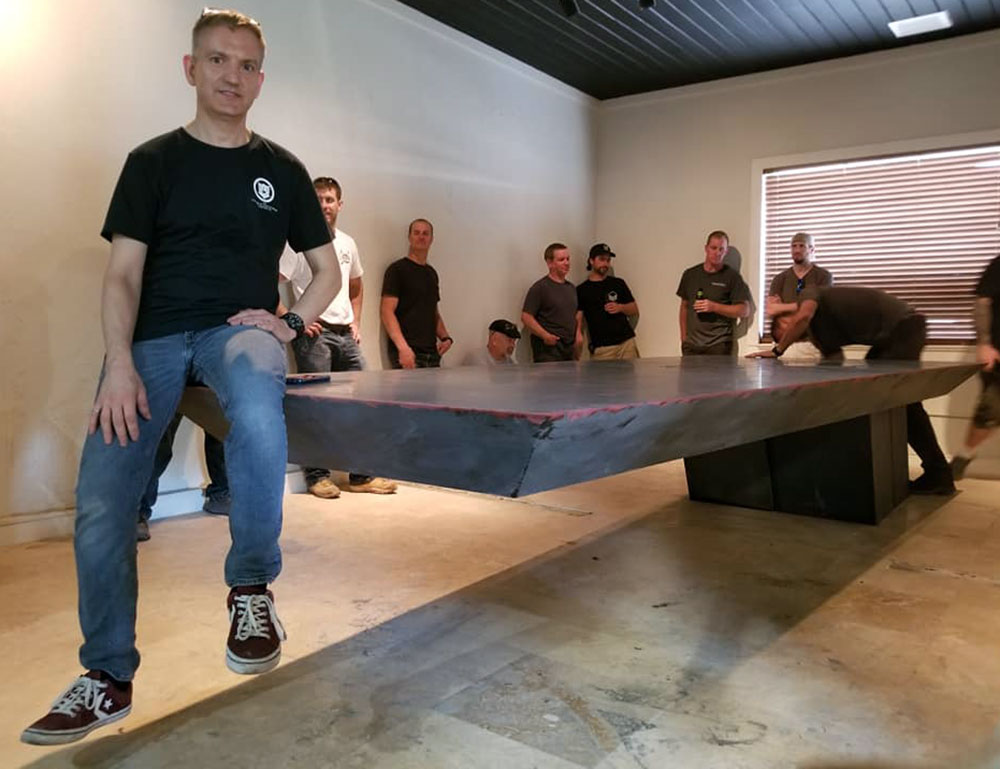 Twenty CCI alumni recently converged on the shop of alumnus Caleb Lawson of Price Concrete Studio in Orlando, FL and made this monstrous cantilevered concrete conference table in 2 days. I was blown away by how many people came all the way to reunite, meet face to face, and forge new bonds and friendships. And work hard to create something truly awesome.
The final dimensions are:
14 ft overall, 11 ft cantilever.
1200 lbs of GFRC for the top alone.
1600 lbs of steel lagged to the floor.
Designed (engineered!) to hold a load of 500 lbs at the end of the cantilever.
The team was all alumni of the Ultimate Creative Concrete Training class, from around the U.S., Canada and England. Thank you everyone!
Ray March from Burlington, NJ
Stephen Gallagher from Chelan, WA
Wayne Rodgers from Denver, CO
Jim Santos from Ovid, NY
Brett Carragher from London, ON, Canada
Michael & Chelsea Sprague from Chattaroy, WA
Frank Kasper III from Tower City, PA
Drew Teaman from Jacksonville, FL
Ray March from Jacksonville, FL
Brent Indenbosch from Chilliwack, BC, Canada
Matt Shields from Owasso, OK
Patrick Golladay from Palm Harbor, FL
Mike Hearn from Jasper, GA
Andy Dombrose from Waialua, HI
Martin Haddock from Cheshire, United Kingdom
Joseph Schroeder from Concordia, MO
Jason Johnston from Knowlton, QC, Canada
Cale Wagner from Columbus, GA
Clint Coleman from Calhoun, LA
Steve Peppers from Havana, FL
Host: Caleb Lawson from Orlando, FL
Stay tuned for a 2020 event, and become an alumnus if you're not already! Check out our hands-on training.
See the event in action here: