Training Facilities
The Concrete Countertop Institute is proud to offer excellent training in beautiful Raleigh, NC. At training classes, continental breakfast, hot lunch and snacks are provided each day. Classes run 8:30am to 5:30pm each day. Students should wear work clothes, but they do not need to bring any equipment. All equipment, materials and safety gear are provided.
CCI's headquarters, R&D facility and training location is:
2810-5C Yonkers Rd
Raleigh, NC 27604

Students traveling by air may fly into Raleigh-Durham International Airport (RDU) and rent a car. The airport is 13 miles, or about 23 minutes, from the recommended hotel. A taxi from the airport to the hotel should cost about $40.
Hotel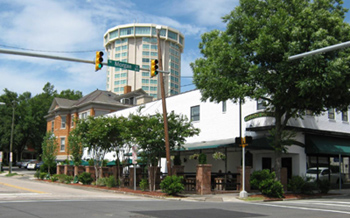 The recommended hotel is located in the heart of downtown Raleigh amidst a vibrant scene of restaurants, bars, museums and art galleries.
The Holiday Inn is located just 4.5 miles from the training facility and 13 miles from the airport. The CCI room rate is an extremely affordable $87 per night, and includes free internet. Students are provided with a link to make reservations at the discounted rate.
Holiday Inn
320 Hillsborough St.
Raleigh, NC 27603
Phone: 919-832-0501
The photo shows a view of the circular hotel behind the popular Flying Saucer bar and restaurant, described below.
Things to Do


We highly recommend the famous Flying Saucer Restaurant (just across the street from the hotel) that features over 80 beers on tap, 200 beers on the menu, and we guarantee you'll love the wait staff.
The hotel is walking distance from all downtown attractions. You will love downtown Raleigh! There are over 90 restaurants, clubs and entertainment venues within blocks of the hotel. You are in the middle of it all with complimentary parking.
Within walking distance:
Glenwood South Entertainment District http://downtownraleigh.liveworkplay.com/maps/63
Fayetteville Street District http://downtownraleigh.liveworkplay.com/maps/14
Free downtown circulator bus, the R Line www.godowntownraleigh.com/get-around/r-line
Raleigh State Capitol Building www.ncgov.com
NC Museum of Natural Sciences www.naturalsciences.org
NC Museum of History ncmuseumofhistory.org
Raleigh Convention Center www.raleighconvention.com
Duke Energy Center for the Performing Arts www.dukeenergycenterraleigh.com
Raleigh Convention and Visitors Bureau www.visitraleigh.com
Artspace www.artspacenc.org
City Market www.citymarketraleigh.com
IMAX Theater www.imaxraleigh.org
A quick drive:
PNC Arena  www.thepncarena.com
Cameron Village Shopping Center www.shopsofcameronvillage.com
Crabtree Valley Mall www.crabtree-valley-mall.com
Class Policies
Detailed class policies are available here.