Before and After Photos of DIY Concrete Countertops using Finale
Here are a few examples of the amazing transformations you can achieve with Finale DIY Concrete Countertop System.
Quick and Easy Kitchen Facelift
This is an AirBnB that got a really quick, easy and inexpensive facelift with just Finale Concrete and a new sink and faucet.
Paint Cabinets and Countertops
This is a rental property that was prepared for sale simply by painting the cabinets white and "painting" the countertops with Finale concrete. This technique can also be used to flip properties for sale.
This was an incredibly fast, easy, and inexpensive way to totally transform the look of the kitchen!
Here is a video showing more amazing before and after photos of this kitchen.
This is the personal kitchen of our very own Kim Daigenault, CCI customer service extraordinaire!
Her husband David replaced the flooring, painted the cabinets and walls, and updated the laminate countertops with Finale concrete.
Kim now lives with Finale (sealed with Omega) and is even more prepared to answer your questions about it!
Extensive Kitchen Remodel
This is a more extensive kitchen remodel. The curved edges of the laminate countertop were removed and replaced with wood, and this kitchen got all new cabinet doors, wall treatments and appliances.
This is the kitchen after the curved edges of the laminate were removed and squared off with wood. At this point the cabinets had also been replaced, the correct size sink hole was cut in the laminate, and the countertop was ready for Finale DIY Concrete Countertop System to be applied: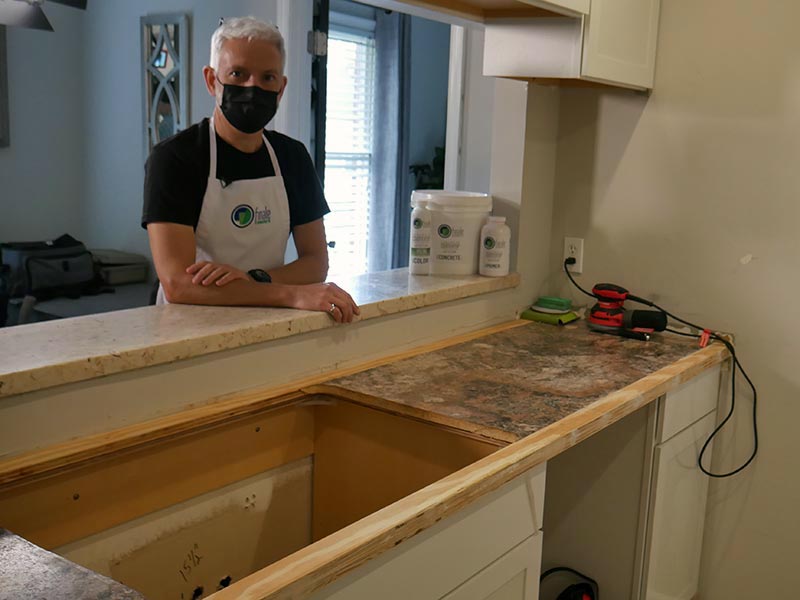 Just Change the Countertop Color
This is a kitchen that already had a modern look, but the laminate was too dark and speckled. Finale brightened and lightened the kitchen, simply by virtue of being a "countertop paint"!
Note that you can also use Finale to change the color and the quality of an old, worn concrete countertop! Click here.
Do you want to transform the old, outdated laminate countertops in your kitchen or bathroom to beautiful, modern concrete?
Get Finale DIY Concrete Countertop System today, and transform your countertops to concrete the fast, easy, and affordable way.