Do you want to learn how to make concrete countertops using GFRC?
We offer a variety of hands-on GFRC Training and video GFRC training.
What is GFRC?
"GFRC is a great option for concrete countertops, three-dimensional elements and more."
If you aren't yet familiar with glass fiber reinforced concrete (GFRC) you should be. It's made by combining a mixture of fine sand, cement, polymer (usually an acrylic polymer), water, other admixtures and alkali-resistant (AR) glass fibers. Many mix designs are available online, but you'll find that all share similarities in the ingredients and proportions used.
Just like regular concrete, GFRC can accommodate a variety of artistic embellishments including acid staining, dying, integral pigmentation, decorative aggregates, veining and more. It can also be etched, polished, sandblasted and stenciled. If you can imagine it, you can do it, making GFRC a great option for creating concrete countertops and especially three-dimensional concrete elements.
Some Reasons to Love GFRC
1. It's lighter than precast.
Because GFRC can be made 1/2 the thickness of traditional precast, it is automatically 1/2 the weight. And, because GFRC does not use stone or as much sand, which are denser and heavier than cement, the weight savings is even greater.
Precast is typically made 1.5″ thick and weighs 18 pounds. 3/4″ thick GFRC weighs 8 pounds per square foot.
2. It's really thin.
The effective minimum thickness for precast is 1.5″ because of the strength and the steel reinforcing required. GFRC's practical limit is only about 1/4″.
3. You can work fast with it.
Because GFRC has high early strength, in part provided by the fibers, it can be demolded quickly. Most GFRC projects can be demolded in 24 hours. In general, traditional precast projects should stay in the molds at least a couple of days. Faster turnaround means you can do more projects and bring in more revenue.
4. There's less likelihood of cracking compared to precast.
Because of GFRC's strength and toughness, it can take a lot more abuse before it cracks. GFRC can even bend!
5. Complex 3-dimensional shapes are easy.
If you can build the mold for it, you can make it out of GFRC. Even shapes that seem difficult because of the spraying angle can be created by clever assembly of the mold.
---
GFRC In Action
"GFRC provides many advantages to creative concrete professionals."
Here's a student project from CCI alumnus Jake Creighton of Countryside Concrete in Belle Plaine, Minnesota.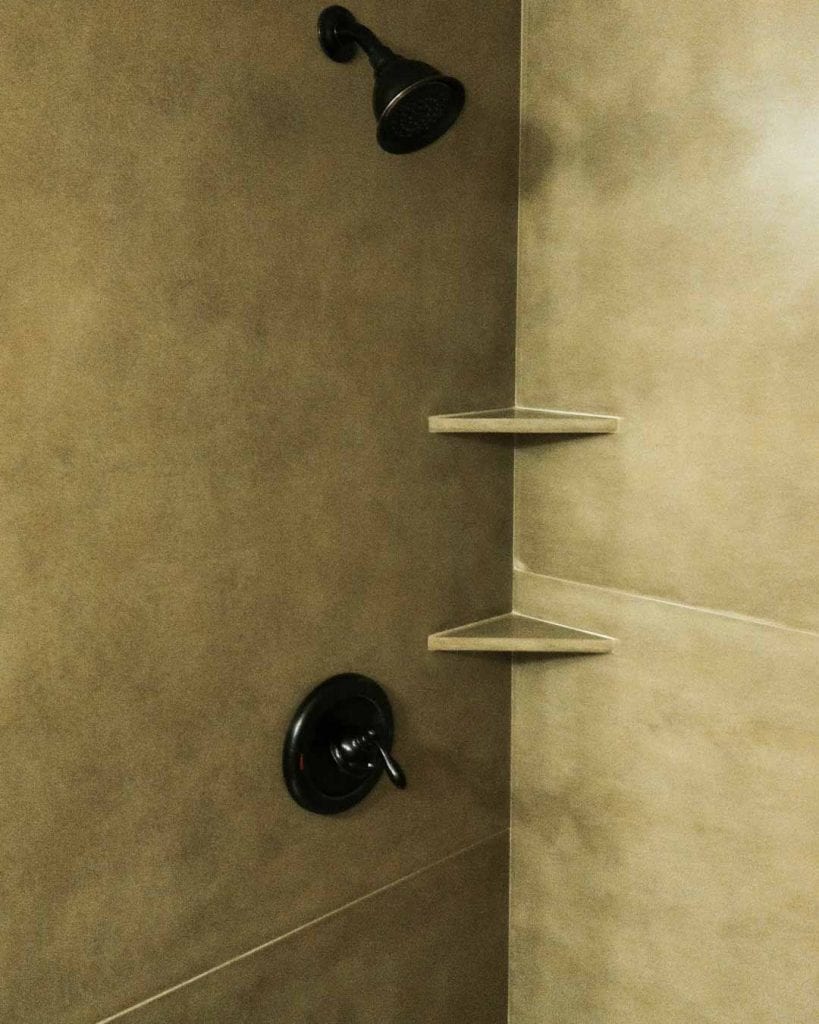 GFRC makes one great concrete countertop, but that isn't all it can do. Unique concrete projects like this one are usually born from some kind of need. The homeowner had a preexisting cast iron tub with tiled walls. They were tired of cleaning grout and dealing with broken tiles and cracked grout. They wanted an easy, low maintenance solution. Jake suggested using concrete panels as a surround. The homeowner loved the idea and Jake got to work.
GFRC was a great choice for this project, because it can be made lighter than conventional concrete, and therefore allows for larger panels.
GFRC provides many advantages to creative concrete professionals, allowing them to be more creative and ultimately be more successful in their businesses.
Take the Next Step
You can learn GFRC! We offer self-study training video GFRC training. For the ultimate in hands-on training that includes GFRC techniques, check out our Ultimate Concrete Countertop Training class.