July 1, 2023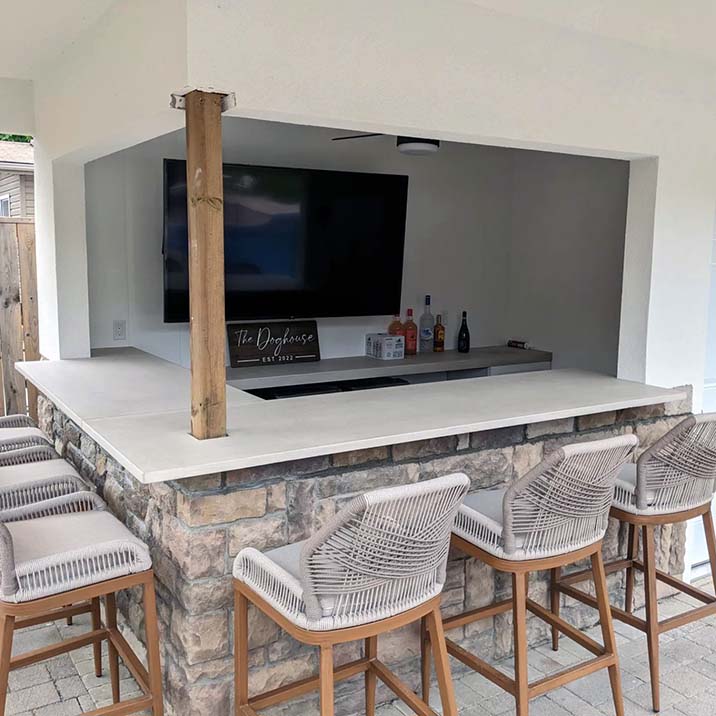 Got white concrete? Don't worry, you won't be in the doghouse because it stained, if you use Omega Pro Concrete Countertop Sealer.
But seriously, this "Doghouse" outdoor kitchen is by ANR Concrete Studio in Ontario. Adam and Andrew, childhood friends, have been producing concrete countertops and fixtures since 2011.
Here's their story from their website www.anrcs.ca:
Adam Rossetto, the founder of ANR Concrete Studio, has been around concrete and construction in one form or another for over 30 years. Growing up in a construction family, he become familiar with the material and how to work with it in its conventional form at an early age. Adam completed his engineering degree, and was later married in 2011. On a trip to California, Adam was introduced to GFRC countertops and furniture. His interest in the material and what he could create with it was instantly piqued. From that day forward, the learning hasn't stopped! Adam's passion is creating beautiful and functional concrete products that excite his clients. Adam lives in Lasalle, Ontario, with his wife and two sons, who enjoy the creations he comes up with almost as much as he does making them!

Andrew Schincariol, and Adam have been friends since childhood. Aside from being lifelong friends, Andrew was one of the original "clients" of ANR, in the infancy of Adam's adventure with GFRC. Andrew's concrete countertops have been serving him well since 2011! His belief in the product, and complimentary skill sets to Adam's made for a natural fit that became the partnership that is ANR Concrete Studio. Andrew is a partner in ANR, lives in Windsor, Ontario, with his wife and two daughters.
Adam and Andrew's long experience and dedication to quality work led them to use the best sealer on the market, Omega. They believe so strongly in the product that they are also the Canadian distributor for Omega! Click here for where to buy Omega worldwide.
We also have exciting news to share about Omega! We have developed a revised process that makes priming incredibly fast and easy, and we're going LIVE to share the new process during our weekly podcast on Wednesday, July 12 at 8am Eastern time.
If you already use Omega or are considering it, don't miss your chance to learn the new process in this free, live, interactive podcast. Jeff and Caleb will take the time to show you the new process and answer any and all questions about Omega. Click here for instructions on how to join this live event.
Here are more inspirational photos of ANR's work, sealed with Omega: