June 24, 2023
John Miller of Uzi Mills Designs in Stafford, Viginia makes handmade bespoke pieces from wood, metal, concrete & whatever his clients can imagine.
John has an excellent business partner and shop helper: Uzi the Dachshund. Check out the Instagram post Uzi made in June 2020 introducing his dad's business: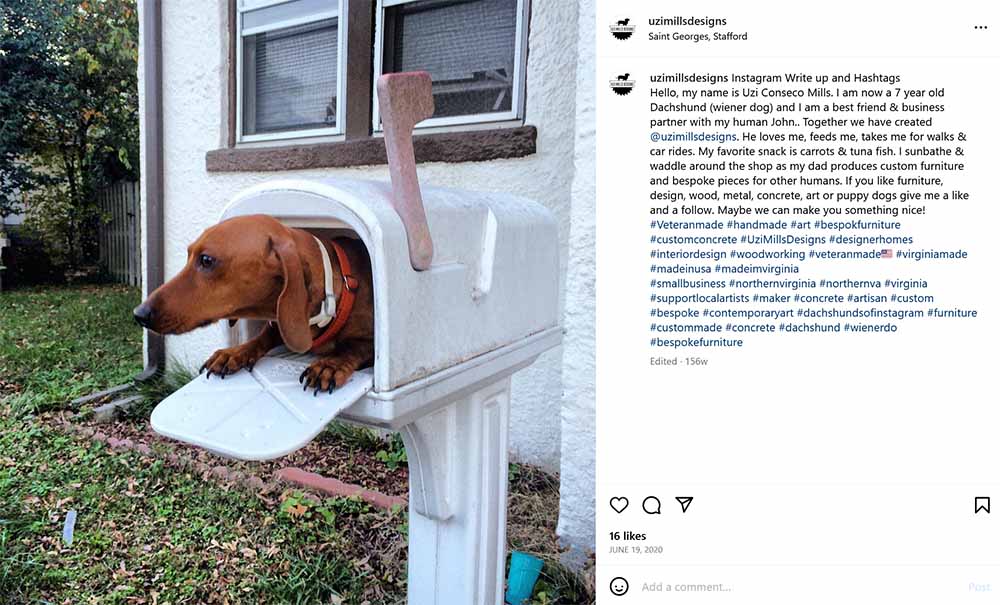 "Hello my name is Uzi Conseco Mills. I am now a 7 year old Dachshund (wiener dog) and I am a best friend & business partner with my human John.. Together we have created @uzimillsdesigns. He loves me, feeds me, takes me for walks and car rides. My favorite snack is carrots & tuna fish. I sunbathe & waddle around the shop as my dad produces custom furniture and bespoke pieces for other humans. If you like furniture, design, wood, metal, concrete, art of puppy dogs give me a like and a follow. Maybe we can make you something nice!"
We love the combinations of wood, metal and concrete that John and Uzi come up with. Here are just a few examples of their work:
We here at CCI love miniature dachshunds, seeing as Jeff has 2 of them, so we couldn't resist this feature!
We haven't met Uzi in person yet, but his human John did come to our class in May and had this to say:
"As someone who's relatively new to the concrete industry I was initially a bit intimidated to take part in one of the classes, a bit worried that my level of knowledge wouldn't compare to others who have been a part of this organization for years and years. Since attending a CCI event I've made connections with other artisans and designers that I've followed and admired for years who welcomed me, collaborated with me, and were open with their knowledge of the industry and running a business in ways I did not expect. I've seen how supportive this community is to its fellow members of the concrete design industry and if you are considering attending an event or class I cannot emphasize enough how much of a game changer it will be for your business."
If you want to be part of this supportive community of concrete artisans, join us for hands-on training!
We have a 5-day class coming up August 7-11 or December 6-10, and a 2-day class coming up November 9-10.
Hear it from John what these classes can do for you: