What is the best sealer for concrete countertops?
Before I answer that question, first let me introduce you to a concrete myth: "Concrete countertops are stain prone and high maintenance."
While in the past this may have been have been true, sealers have come a long way from the simple wax and acrylic sealers once used. (Although the myth of wax still persists.)
With the right sealer you can create a countertop that fulfills many of the essential functions one wants in a kitchen:
stain-resistant
heat-resistant
scratch-resistant
food safe
easy to clean
easy to maintain
perfectly smooth
Floor Sealers and Countertop Sealers Are Not the Same
With the increased demand for concrete products, both in flooring and countertops, manufacturers are starting to recognize the demand and create more concrete sealer products. A problem arises however when manufacturers mistakenly recommend a sealer designed for concrete flooring for countertop use.
Although both flooring and countertops can be made from concrete, the performance requirements are vastly different. Floor sealers are optimized for walking on, not cooking on.
The Ideal Sealer for Concrete Countertops
Bare concrete is porous and vulnerable to staining and chemical attack. Liquids will tend to soak into the surface, carrying stains into the concrete itself. Acidic substances like vinegar and lemon juice will dissolve the cement paste, etching the surface.
For concrete to be a practical countertop material, it must be sealed to protect it from stains and etching.
This is definitely NOT what you want: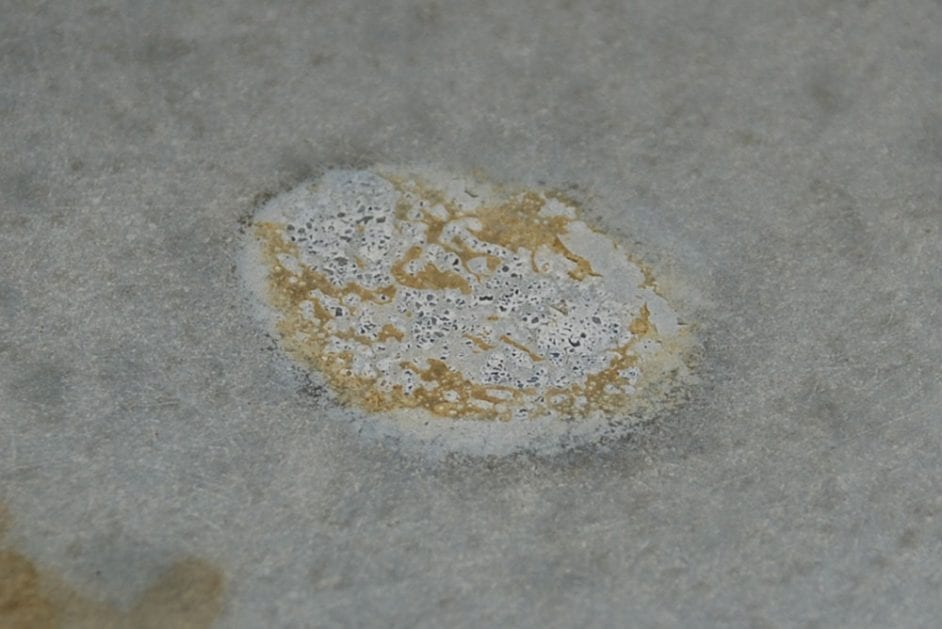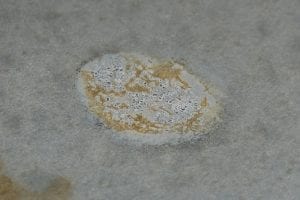 This concrete was sealed, but it still etched and stained (from Tabasco sauce). Not all concrete sealers are created equal!
The Ideal Sealer for concrete countertops must satisfy the basic criteria that are important both to consumers and those making the countertops.
Criteria that are important to clients (end users of the countertop):
Enhance the appearance of the concrete without degrading the look or feel (i.e. not look like plastic)
Non-porous
Completely resist stains from food, oil and other common household substances
Resist any etching from acidic substances like lemon juice and vinegar
Resist heat from hot pots and pans taken directly from the oven or stove top at a wide range of temperatures
Not degrade or yellow in UV sunlight
Scratch-proof
Food safe (non-toxic)
Easily cleaned using common household cleaning products
Provide long term protection without the need for frequent maintenance or reapplication
Not peel, flake, chip or bubble
Easy to repair
Criteria that are important to the concrete countertop maker:
Inexpensive
Quick and easy to apply
Strong client appeal
Omega Concrete Countertop Sealer
The Ideal Sealer that meets every single one of these criteria… does not exist.
However, one comes close, for professional use: Omega Concrete Countertop Sealer. I developed this sealer in 2017 after many, many years of frustration and compromises with other commercially available sealers.
Omega is much faster and easier to apply than the recently popular professional-grade high-performance urethane sealers, but it still requires practice and attention to the instructions. It is also fairly expensive, given the advanced chemistry.
That's why I say it is not the Ideal Sealer. But it is the best professional grade concrete countertop sealer on the market. Click here to learn more.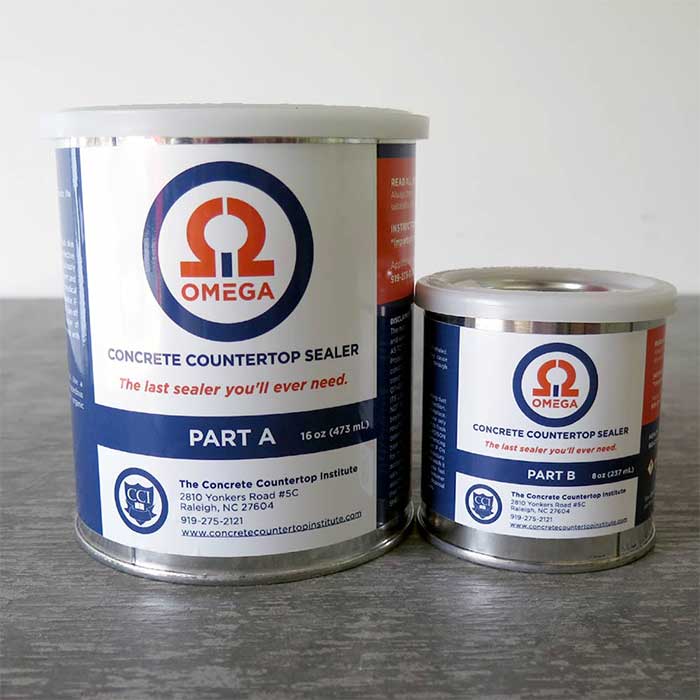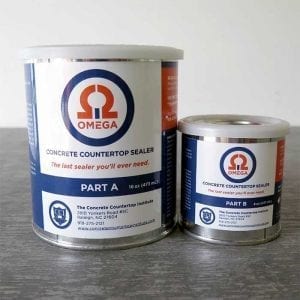 Ovation Concrete Countertop Sealer
For DIY use, cost and ease of use become more important factors to consider when choosing a sealer. That's why in 2020 I developed Ovation Concrete Countertop Sealer, the first single component, food safe and water based sealer that also offers excellent performance.
Ovation is extremely easy to use, and it costs just $69.99 for enough to seal a typical kitchen. It has excellent stain and acid resistance up to 1 hour, but doesn't stand up like Omega at 24 hours. That's the tradeoff of a completely different chemistry that doesn't involve urethane and its associated HDI isocyanates.
Ovation is the safest, easiest, best performing DIY concrete countertop sealer on the market. Click here to learn more.